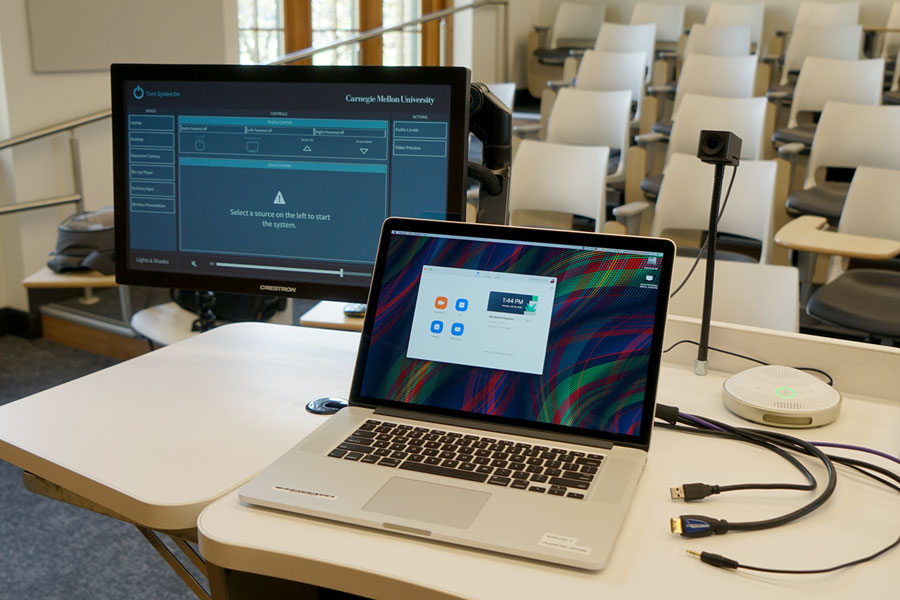 August 21, 2020
Hybrid Technology for Fall Classes
This year, preparing classrooms for the fall semester presented new challenges due to the need to support both in-person and remote students.  But don't worry—we're ready! As part of the Classroom Strategy Working Group, professionals across campus collaborated to meet the challenges by introducing new standard technology for hybrid course delivery.
Up to 500 campus spaces capable of adhering to CDC social distancing guidelines and ventilation requirements were selected for updates. The new technology creates consistent, easy-to-use environments that can support synchronous learning for both in-person and remote students.
"Obviously, this fall will look a little different to everyone," explained Deborah Schill, Director of Learning Technologies and Media Services. "Our collaborative goal was to provide a solution that not only ensured flexibility for a breadth of teaching scenarios, but also promoted safety with adherence to guidelines for our faculty and students."
The updated classrooms will allow faculty to use existing touch panels and room projection for students attending in person. New conference cameras and room microphones, coupled with Zoom technology, will allow remote students to participate in normal classroom activities and faculty to successfully deliver content this semester.
Will you be teaching in a new hybrid learning space this semester?
Take advantage of these support resources to get prepared: