The Heinz School has opened operations in Adelaide, Australia, where classes are well under way for 55 students. Adelaide is in the southern portion of the continent, just northwest of Melbourne.

After years of recruiting international students to its Pittsburgh campus, Carnegie Mellon's H.J. Heinz III School of Public Policy and Management has taken to the road 10,000 miles down under, in Adelaide, Australia.
"We have been very interested in continuing to internationalize our program and our school," says Brenda Peyser, executive director of Carnegie Mellon's Heinz School in Adelaide, which this past June began offering graduate degree programs in information technology and public policy. "One of the things that became clear is it's not enough to bring people in from other places." According to Peyser, Carnegie Mellon administrators realized that "one of the things we should be thinking about is how to globally extend our research and education mission."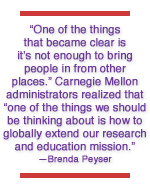 Heinz School Adelaide's inaugural class consists of 55 full- and part-time students, and already seems to be meeting its goal of creating an international cohort of students. "We have students from the U.S., students from Africa, Cambodia and Sri Lanka. It's a pretty broad mix," Peyser says. The student body also includes several Australian students.
The initial class was kept intentionally small at first so the number of students didn't swell to more than administrators and faculty could handle, says Peyser. But interest from around the globe is strong. More than 180 students applied to be part of the inaugural class and applications for next year are pouring in.
"Those who are applying for next year," says Peyser, "are from Egypt, China, the Philippines, and the US. We've had interest from pretty much all over the globe."
Heinz School faculty in Adelaide this semester include Professor Janusz Szczypula and Adjunct Professor Annette Wright. Szczypula is teaching Database Management, Empirical Methods for Public Policy and Management, and Statistics for IT Managers. Wright is teaching a course in strategic planning.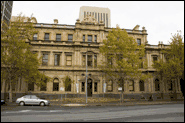 Heinz School offices and classrooms are in the historic Torrens Building in Adelaide's Victoria Square.

Joining Szczypula and Wright are new faculty members Riaz Esmailzadeh, Claudia M. Landeo and T. K. Lim. Esmailzadeh's focus is on technology management and e-commerce. Landeo is a visiting professor of economics, specializing in law and economics, and behavioral and experimental economics. Lim is an associate teaching professor in finance and public policy. Mike McCarthy, an associate teaching professor, will join the faculty in Adelaide this January, and other Heinz School professors will teach there on a rotating basis.

Following the inaugural year, and as the program begins to admit larger numbers of students, the school year will begin in January and end in December. The yearlong program, says Peyser, "runs three semesters in a row without a whole lot of time off. It's pretty intense."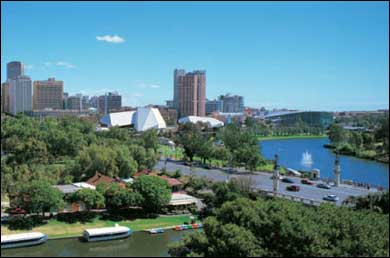 If you think of Sydney and Melbourne as being equivalent to New York and Boston, Adelaide is probably like Pittsburgh, says Brenda Peyser, executive director of Carnegie Mellon's Heinz School in Adelaide.
The yearlong schedule means students will only accrue one year's worth of expenses while most equivalent master's degree programs in the U.S. last at least two years. If students do manage to find a minute away from school, the splendors of Australia await them. "Students can take a trolley out to the beach to hang out there," says Peyser who noted that the world famous Glenelg Beach is only 20 minutes away.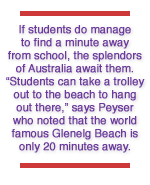 The Heinz School "campus," as such, is actually found in the historic Torrens Building in Adelaide's Victoria Square. Named after Robert Torrens, who established the Torrens land title system, the Heinz School's building retains emblems of its past as the same compartments where Australian land owners formerly stored their land titles are now being used for student mailboxes.
Residing nearby the Torrens Building is Carnegie Mellon's Entertainment Technology Center, which has also launched a program down under. In a section of town called Light Square, the ETC is offering its famed Master of Entertainment Technology degree.
The Heinz School and ETC are part of Adelaide's efforts to establish itself as an education hub and to distinguish itself from far more populous centers on the continent, like Sydney and Melbourne.
Addressing the South Australia State Parliament, Premier Mike Rann said he wants Adelaide to be recognized internationally for its investment in education. He called Carnegie Mellon "a prestigious U.S. institution" and predicted that several universities would follow Carnegie Mellon's lead to South Australia in the next few years.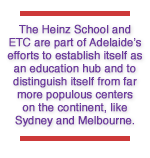 As far as students are concerned there's a real advantage to Adelaide's size and location, even though by Australian standards, it's a city far down under.
"When you think of Sydney and Melbourne as being equivalent to New York and Boston, Adelaide is probably like Pittsburgh," Peyser said. She added that from an educational standpoint, you don't need to be — and you don't want to be — in the most congested city where the cost of living is highest.
Peyser says that the key to the Heinz School's ultimate success is "finding a way to bring our culture and sensibility to Adelaide while understanding how the environment here is different from what we experience in Pittsburgh."
Following a short visit to the Heinz School's headquarters in Pittsburgh, Peyser returned to Adelaide, where some differences, like the use of slang, are quite apparent. A documentary is a doco, a journalist is a journo, and "taking five" for a smoke break is called a smoko.
John Worlton
October 23, 2006