Major Motion Picture, "Smart People," To Be Filmed on Campus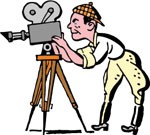 The big screen is once again coming to campus, and this time Carnegie Mellon is getting top billing.
"Smart People," starring Dennis Quaid as an eccentric Carnegie Mellon English professor, Rachel Weisz as his former student whom he falls in love with, and Mary Steenburgen — wife of Carnegie Mellon alumnus Ted Danson — as the English Department head's assistant, will be filming on campus during the weeks of Nov. 6 and Nov. 13. Thomas Haden Church will play the professor's adopted brother. The film's producer is Michael London, whose credits include "Sideways," "House of Sand and Fog" and "The Illusionist."
"Wonder Boys," the last motion picture to be filmed on campus starring Michael Douglas, never used the Carnegie Mellon name, but this time things will be different, according to Marilyn Kail, Carnegie Mellon's assistant vice president for marketing communications.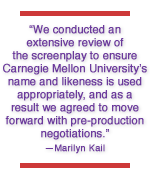 "We conducted an extensive review of the screenplay to ensure Carnegie Mellon University's name and likeness is used appropriately, and as a result we agreed to move forward with pre-production negotiations," Kail said.
While the university and Groundswell Productions are currently negotiating the legal contract and location site fees, it is estimated that filming will take place at Carnegie Mellon for approximately eight days in numerous buildings around campus during the weeks of Nov. 6 and Nov. 13, in addition to one day in early December.
Kail said terms of the agreement may include the use of College of Fine Arts students as extras, production assistants and interns, and on-campus speaking engagements by production crew and cast members. She said the university would also request that the film be screened on campus before the release date.
Kail is well aware of the many restrictions that "Wonder Boys" imposed on campus during filming.
"As an educational institution, our priority is to satisfy our university constituents. Therefore, any student, faculty or administrative member who may be affected or displaced by the production will be notified in advance and amenable arrangements will be made," she said.
More details regarding the production schedule and locations will be released when they are finalized.
Bruce Gerson
October 16, 2006