Carnegie Mellon Welcomes Back Alumni for Homecoming and Reunion Weekend, Oct. 12-15
The Class of 1951 is celebrating its 55th Reunion this weekend.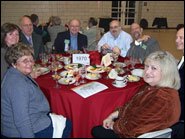 Members of the Class of 1970 enjoy their welcome back dinner last year.

More than 1,500 alumni are expected to return to campus Oct. 12-5 for Carnegie Mellon University's Homecoming and Reunion Weekend, an opportunity to celebrate milestones with old and new friends from across the globe.

"Homecoming 2006 gives alumni and their families an opportunity to reconnect with old classmates and rediscover Carnegie Mellon through today's faculty and students," says Judy Cole, Carnegie Mellon's associate vice president of University Advancement and director of Alumni Relations.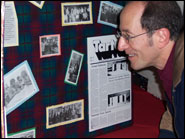 An alumnus takes a look at his class photo board.

Alumni and their families can choose from more than 100 activities and events throughout the weekend, which will feature open classrooms and studios, college and school receptions, panel discussions and tours, and special events like the 100-year anniversary celebrations for Margaret Morrison Carnegie College, the Tartan and the Mechanical Engineering Department.

Whether you're interested in taking in a Scotch 'n' Soda theater performance, enjoying a bowl of chili at the third annual homecoming cook-off, taking your kids to learn about creating their own newspaper, or catching up with old friends at your class reunion and reception, Homecoming 2006 offers something for everyone.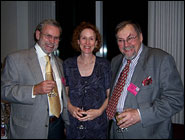 Alumni get reacquainted at the Class of 1960 reception and dinner in 2005.

An annual highlight of Homecoming and Reunion Weekend is the Alumni Awards Ceremony, in which the Carnegie Mellon Alumni Association will honor more than a dozen individuals with alumni awards for merit and service. The ceremony will be held at 7:30 p.m., Oct. 13 in Rangos Ballroom in the University Center.

Alumni Awards to be presented at the ceremony include: Distinguished Achievement, Frederick H. Dill (S'54, S'56, E'58) and Lawrence R. Sulak (S'66); Distinguished Service, Virginia Wright Schatz (A'43); Achievement, Iris Rainer Dart (A'66), Raymond Gindroz (A'63, '65), Aaronel deRoy Gruber (MM'40) and Wilbur C. Thomas (E'44); Service, Ivan M. Faigen (E'48) and Sema Moskovitz Faigen (MM'49); Student Service, Menna Mulugetta (TPR'07) and Ramzi J. Ramsey (TPR'07); Faculty Service, Cindy Limauro and Susanne Slavick; and Honorary Alumnus, Arthur C. Schwotzer (HA'06).

For more information about the Alumni Award winners, visit http://www.cmu.edu/PR/releases06/061006_awards.html

For more information on this year's Homecoming and Reunion events, visit alumni.cmu.edu/homecoming/index.html.

Jenni King
Jay Brown
October 9, 2006