Carnegie Mellon Students To Teach Girl Scouts How To Make a Deal
Scouts Will Earn "Win-Win" Badge After Learning Negotiation Skills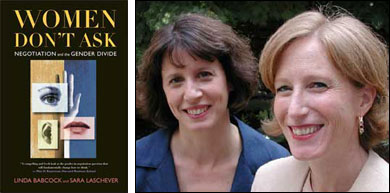 PROGRESS, which teaches negotiation as a constructive way to reach an agreement, is based on the book "Women Don't Ask: Negotiation and the Gender Divide," by Linda Babcock (right) and Sara Laschever.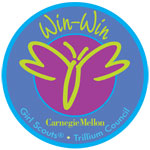 If you think it's hard to resist buying Girl Scout cookies now, just wait.
Carnegie Mellon University's Program for Research and Outreach on Gender Equity in Society (PROGRESS) has teamed up with the Girl Scouts - Trillium Council (GSTC) to create the "Win-Win" badge, which fourth- through sixth-grade Girl Scouts will earn after learning lifelong problem-solving and negotiation skills. Carnegie Mellon students will present the first program from 1 to 4 p.m., Saturday, Nov. 18 at the university's H. John Heinz III School of Public Policy and Management.
The program, which teaches negotiation as a valuable and constructive way to reach an agreement that satisfies all parties, is based on Linda Babcock's recent book with Sara Laschever, "Women Don't Ask: Negotiation and the Gender Divide." In the book, Babcock, the James M. Walton Professor of Economics in the Heinz School, describes her research on initiating negotiations and explores the societal factors that hold women back from asking for what they want. While many factors are at a work to create inequities between women and men, gender differences in the propensity to initiate negotiation play an important role.
Founded by Babcock, PROGRESS seeks to pursue gender equity and foster positive societal change for all women through education, partnerships and research. To fulfill this mission, PROGRESS teaches women and girls how to negotiate. The "Win-Win" badge promotes a cooperative style of negotiation, helping the next generation become comfortable with the process at a young age.
"I am hoping we can 'grow' a large number of girls who will recognize more opportunities to negotiate and who will be able to constructively engage others in negotiations," said Babcock. "If this happens, we can change society's expectations about women and negotiation."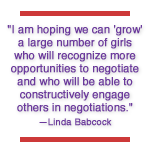 To earn the badge, Girl Scouts will learn why and how negotiation can be useful by observing adults in their communities negotiating, practicing negotiation in their own lives and teaching the art of negotiation to others. The program uses games, skits and projects to introduce the principles of negotiation in a fun and interesting way. If the pilot succeeds, the badge will be offered nationally.
"When people hear about this program, the first thing many of them say is, 'I wish there would have been a program like this when I was younger!' Our council has been afforded a unique opportunity through 'Win-Win.' Girls can learn how to reach agreements that meet the needs of all concerned while they ask for what they want and try their hand at negotiation," said GSTC Chief Executive Officer Marcia Barber. "GSTC truly has benefited from the knowledge and insight of Linda Babcock and the entire PROGRESS staff."
GSTC, a chartered council of the Girl Scouts of the USA (GSUSA), has served girls between the ages of 5 and 17 for more than 75 years. It is the 30th largest out of 310 Girl Scout councils in the U.S., reporting a membership of nearly 21,000 girls in 2004-2005.
Founded in 1912, GSUSA is the world's pre-eminent organization for girls, with a membership of more than 3.6 million girls and adults. Today, GSUSA helps to cultivate values, social conscience and self-esteem in young girls, while also teaching them critical life skills that will enable them to succeed as adults. In Girl Scouting — and its special girls-only environment — girls discover the fun, friendship and power of girls together.
GSTC members can register for the class by calling 412-594-2201. There is a $10 program fee. For more information, call 1-800-248-3355, ext. 2202; email sorr@gstrillium.org or visit www.girlscouts-wpa.org.
Jenni King (Carnegie Mellon)
Susan Orr (Girl Scouts)
September 22, 2006