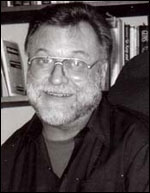 Preston Covey

Carnegie Mellon is saddened to learn that Preston Covey, an associate professor of philosophy and husband of library faculty member Denise Troll Covey, died at his home on Monday, Sept. 18. He was 64.

Covey, who joined the Carnegie Mellon faculty in 1973, was an innovative scholar and educator who had a distinguished record of service to the university. He was the director of the Philosophy Program from 1982 to 1985 — when it was part of the History and Philosophy Department — and he oversaw its inauguration as a full department in 1986. He also served as the vice provost for university studies from 1987 to 1989.

"Preston Covey had an important impact in the development of Carnegie Mellon University as a founder of the Department of Philosophy, as an educational innovator in the field of Applied Ethics, and as a truly devoted teacher and mentor of students," said John Lehoczky, dean of the College of Humanities and Social Sciences (H&SS).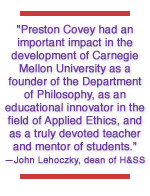 Covey was deeply involved in creating the first core curriculum for H&SS, and it was on the basis of that work that in 1983 he received the college's Elliott Dunlap Smith Award for Teaching and Educational Service.
"He was a very popular teacher. He was very animated. He had a great sense of humor," said Jay Devine, director of the H&SS Academic Advisory Center and a longtime friend of Covey.
Covey had a hand in creating the Ethics, History and Public Policy major, a joint program with the Department of History that is the most popular Philosophy Department major. The students who he mentored in that program will miss him sorely, said Richard Scheines, head of the Philosophy Department.
"As an advisor, he was stunning. He put in more time and nurtured these people more intensely than you can possibly imagine," Scheines said.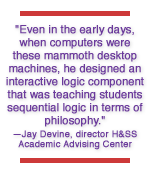 From 1988 to 2005, Covey was the director of the university's Center for the Advancement of Applied Ethics (CAAE), a research center in the Department of Philosophy that examines bioethics, business ethics, conflict resolution and improving the responsiveness of democratic institutions. He also was at the forefront of computing in philosophy, and he chaired the American Philosophical Association Committee on Computing in Philosophy from 1986 to 1991.
"Even in the early days, when computers were these mammoth desktop machines, he designed an interactive logic component that was teaching students sequential logic in terms of philosophy," Devine said.
Covey directed Carnegie Mellon's Center for the Design of Educational Computing from 1986 to 1992, and was the center's executive director from 1985 to 1986. He developed interactive, multimedia software to help students weigh complex moral and ethical dilemmas, including "A Right to Die? The Case of Dax Cowart," which Covey created along with Robert Cavalier, teaching professor of philosophy.
"Preston was more than an innovator. He was a mentor to a whole generation of philosophers who participated in what is now the International Association of Computing and Philosophy," Cavalier said. "And he was a friend to many of us throughout our careers."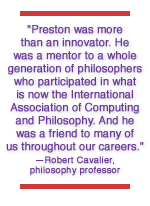 Covey was also very active in the law enforcement community, and was a deputy sheriff with the Allegheny County Sheriff's Reserve. He trained law enforcement officers in the law, ethics and practical realities of lethal encounters, and he served on several state, national and international law enforcement organizations.
Covey earned a bachelor's degree with distinction in psychology from Stanford University in 1965, and a Ph.D. jointly from the Department of Philosophy and the Humanities Graduate Program at Stanford in 1978.
The Philosophy Department is planning to hold a memorial service for the campus community; the date and location have yet to be determined.
Jonathan Potts
September 20, 2006