Rising Star Luis von Ahn Named to Popular Science's "Brilliant 10"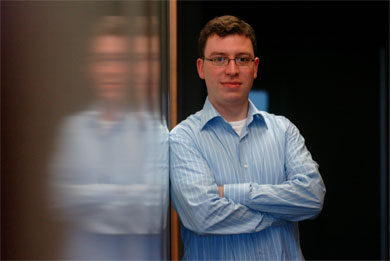 Luis von Ahn, 27, is pioneering a technique he calls "human computation."
Luis von Ahn thinks big. And he's trying to think much bigger.
Thinking big already has led von Ahn, an assistant professor of computer science at Carnegie Mellon, to invent Internet games that harness the brainpower of thousands of people to accomplish useful tasks beyond the ken of any digital computer.
And it's why Popular Science this month named von Ahn, 27, as one of its "Brilliant 10," the magazine's annual listing of young scientists "who are changing not just what we know, but the limits of what we know."
Von Ahn, however, sees bigger things ahead for this technique that he's pioneering, called "human computation." Thus far, he and his colleagues have been able to tap the collective brainpower of tens of thousands of people to apply labels to Web images or identify objects within images. But given the size of the Internet, why limit it to thousands of people working together?
"I want to have a site where literally millions of people come and work on tasks that are useful for humanity," he says.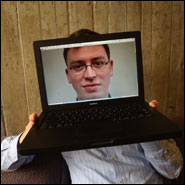 Von Ahn, who earned his master's and doctorate degrees at Carnegie Mellon, joined the Computer Science Department faculty this summer.

The idea to use the Internet to create a network of human computers germinated while von Ahn, a native of Guatemala, was a Carnegie Mellon graduate student working with University Professor of Computer Science Manuel Blum. He had already helped Blum develop CAPTCHAs, the distorted-letter tests used by Yahoo and other Internet sites to distinguish between humans and computers. As he and Blum saw it, people were wasting millions of hours online playing games such as solitaire; they figured that if they could devise a sufficiently interesting game, they could steal those brain "cycles" to do real work.

The first game von Ahn created was the ESP Game, which paired up players who typed words to describe an inadequately captioned photo from the Web, attempting to match each other. Matches earned the players points — and generated keywords that could be used to aid image searches. The game was and remains popular, with more than 75,000 players to date and some playing for 20 hours or more.

Then came Peekaboom, a multi-player game that generated annotated images used to train computer vision systems. Final touches are now being put on a new game, called Phetch, which generates descriptions of images that can be used to make the Web more accessible to blind people.

Von Ahn, who earned his master's (2003) and doctorate (2005) degrees in computer science before joining the Computer Science Department faculty this summer, has plans for at least five more games. And the idea is catching on elsewhere, with researchers at major universities and some private companies working on their own "games with a purpose."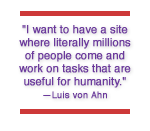 "A lot of people think it's a good idea," he says. "The problem is, coming up with a well-done game is a hard task." It's not just getting the game working right, he emphasized, but making a game that's fun to play.
Eventually, however, von Ahn wants to take fuller advantage of the Internet to harness people's minds. The Panama Canal was built with tens of thousands of workers, the Apollo program took 50,000, the pyramids perhaps 100,000, he notes. "Now, we can get 400 million people working together."
But what would 400 million people do? What would be the Internet equivalent of a moon shot? "We just can't think big enough," he says. "I don't think I can think big enough yet."
The Other Nine
In case you were wondering, von Ahn was joined on the "Brilliant 10" list by: Erich Jarvis (animal linguistics, Duke), Nima Arkani-Hamed (theoretical physics, Harvard), Jerry Goldstein (planetary science, Southwest Research Institute), Melody Swartz (bioengineering, Northwestern), David Thompson (climatology, Colorado State), Kelly Dorgan (zoology, Maine), Omar Yaghi (materials science, UCLA), Terry Tao (mathematics, UCLA) and Sara Seager (astro geology, Carnegie Institution).
Byron Spice
September 15, 2006