Carnegie Mellon Named a Pittsburgh Savior For Its Economic and Social Impact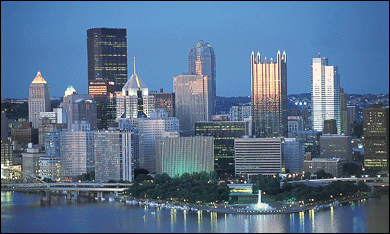 The New England Board of Higher Education lists Carnegie Mellon among the 25 "best-neighbor" universities for dramatically strengthening the economy and quality of life in Pittsburgh.
Among all the national college and university surveys and rankings that annually hit the newsstands each fall, came one that reinforces Carnegie Mellon University's huge impact on the local level. In fact, it calls Carnegie Mellon a Pittsburgh savior.
"Saviors of Our Cities," published by the New England Board of Higher Education, lists Carnegie Mellon among the 25 "best-neighbor" colleges and universities that have dramatically strengthened the economy and quality of life in their hometowns.
"The extraordinary efforts of these . . . colleges have made higher education one of the great growth industries in America and have given a sense of confidence and hope as well as stability to cities that would otherwise be struggling in a world of mergers, downsizing and global outsourcing that has eroded the traditional urban economic base," said NEBHE President Evan Dobelle, an expert in the field of higher education and cities.
"It's always nice when national studies recognize the contributions that Carnegie Mellon and the University of Pittsburgh have made to impact our region," said Don Smith, vice president for economic development at Carnegie Mellon and Pitt. "While there's a long history of involvement for Carnegie Mellon students, faculty and staff, the strategic plan that [Carnegie Mellon] President Jared Cohon implemented highlighting economic impact in the region has really paid dividends.
"Whether it's our faculty, students and staff, our tech transfer operation, or projects like our Collaborative Innovation Center, and our close collaboration with the University of Pittsburgh, the university is making a big impact on our region's economy," Smith said.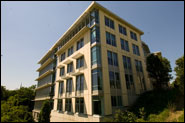 Intel and Apple Computer have set up research venues in Carnegie Mellon's Collaborative Innovation Center, which recently received a Leadership in Energy and Environmental Design (LEED) certificate from the U.S. Green Building Council for its high level of sustainability and efficiency.

With a workforce of more than 4,300 and a student population of about 10,000, Carnegie Mellon contributes to the region's economy in many ways. For example, according to the latest economic statistics (fiscal year 2004), expenditures of students, faculty and staff accounted for $195.1 million in Pittsburgh and $372.2 million in Allegheny County. And sponsored research projects at the university generated nearly $280 million of direct and indirect revenue into the local economy in FY 2004.

Carnegie Mellon has also bolstered the southwestern Pennsylvania economy by helping to create 154 companies from 1993 to 2005. From 2001 to 2005, 17 companies that are direct licensees of the university have created 100 jobs in the region and raised $40 million. In fiscal year 2006, Carnegie Mellon's Center for Technology Transfer and Enterprise Creation (CTTEC) helped establish 14 companies based on university technology. This year's spin-offs from Carnegie Mellon represent a range of industries and technology areas, from the green chemistry firm GreenOx and the training-simulation game developer SimOps, to the industrial control firm Industrial Learning Systems.

"The strong local concentration of technology companies adds fuel to the technology sectors in the Western Pennsylvania region," said Rob Lowe, Carnegie Mellon Director of Enterprise Creation. "We're definitely on the right track, and this year's success demonstrates all of the combined efforts of Carnegie Mellon's world-class faculty and researchers and CTTEC's business development managers."

In addition to fostering the launch of new local and regional ventures, the university and its talented faculty have played key roles in attracting technology companies to the city. For example, Intel and Apple Computer have set up research venues in Carnegie Mellon's Collaborative Innovation Center, and Google and Seagate have opened offices in Pittsburgh to be near Carnegie Mellon. Carnegie Mellon Associate Computer Science Professor Todd Mowry heads Intel Reasearch Pittsburgh and Computer Science Professor Andrew Moore is director of Google's Pittsburgh operation. Mark Kryder, the Steven Jatras University Professor of Electrical and Computer Engineering, directs Seagate's research facility near the David L. Lawrence Convention Center.

"Google is another big example of how . . . Carnegie Mellon is a major economic engine for this region," said Allegheny County Chief Executive Dan Onorato at the press conference announcing Google's new office in Pittsburgh last December.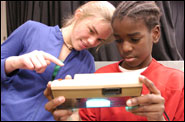 Carnegie Mellon students are active participants in many tutoring, mentoring and enrichment courses for K-12 students in the Pittsburgh area.

"We open engineering offices where there are great engineers, and we're very excited about the talent the Pittsburgh area has to offer," said Craig Nevill-Manning, engineering director at Google.

Carnegie Mellon is a member and co-founder of the Pittsburgh Digital Greenhouse and the Pittsburgh Life Sciences Greenhouse, which serve as incubators for information technology and biotechnology firms wishing to locate here.

K-12 education, the environment and the quality of life in the region have been positively impacted by Carnegie Mellon efforts as well. The Leonard Gelfand Center for Service Learning and Outreach, under the direction of Judith Hallinen, supports more than 75 university-wide programs for K-12 students and teachers aimed at improving and enhancing the teaching and learning process. Carnegie Mellon students, faculty and staff are active participants in the many K-12 outreach initiatives, which include certification and professional development programs for teachers and administrators, tutoring, mentoring and enrichment courses for students, and activities for students aimed at improving area communities. The center works to connect university students to volunteer and paid positions, which allow them to develop expertise while meeting the needs of local agencies and individuals.

"The center's goal is to help our students consider the ways in which their talents and skills can be applied to improve the community in which they live, while at Carnegie Mellon and after graduation," Hallinen said.

Hallinen noted that several project-based courses at the university also benefit the Pittsburgh region. Courses, such as "Information Systems in the Community," require students to work with local nonprofit organizations to enhance their organization and effectiveness through the use of technology and information systems.

The university's internationally known College of Fine Arts, which includes schools of architecture, art, design, drama and music, contributes to the cultural development of the region by hosting theatre performances, art shows, exhibits and concerts, and by collaborating with local organizations. Staff and students in the School of Drama helped produce the inaugural Pittsburgh International Festival of Firsts, a unique multidisciplinary performance festival sponsored by the Pittsburgh Cultural Trust in October 2004. And many Carnegie Mellon art alumni exhibited their work at the 2006 Three Rivers Arts Festival. The School of Music and the Pittsburgh Symphony Orchestra enjoy a mutually beneficial relationship and the School of Architecture is a founding member of Cornerstones, an organization aimed at strengthening the future of the Pittsburgh region. Cornerstones brings together the many interests of the building industry, including architects, engineers, developers, builders/contractors, bankers, mortgage bankers, realtors, lawyers, insurers, specialty contractors and government officials.

Carnegie Mellon is also working diligently to foster a healthier and energy-conscious environment. It recently increased its purchase of renewable energy sources (wind power, small hydro power and landfill gas resources) for electricity from 11 percent to 15 percent this year. The university plans to acquire 17 .5 percent of its total power form renewable sources in 2007, and 20 percent in 2008.

Campus construction has also turned green by utilizing green design principles. The Collaborative Innovation Center was the latest building to receive a Leadership in Energy and Environmental Design (LEED) certificate from the U.S. Green Building Council for its high level of sustainability and efficiency. Other campus facilities that have earned high rankings from the U.S. Green Building Council for their green design are the New House and Henderson House residence halls, the Posner Center and 300 South Craig Street. Future green initiatives include the new Gates Center for Computer Science and Phase II of the Doherty Hall renovation project.

Other "best neighbor " schools listed in the survey include: USC; Penn; Dayton; IUPUI (Indianapolis); Rhode Island School of Design (Providence); Case Western (Cleveland), Clark (Worcester, Mass.); VCU (Richmond); Wisconsin-Milwaukee; Emerson (Boston); Trinity (Hartford, Conn.); Chicago; Mercer (Macon, Ga.); Middlesex Community College (Lowell, Mass.); George Washington; Portland; Pitt; College of Charleston (S.C.); Springfield (Mass.); Emory (Atlanta); Union (Schenectady, N.Y.); Missouri-Kansas City; Miami-Dade; and Creighton (Omaha).


Bruce Gerson
August 28, 2006