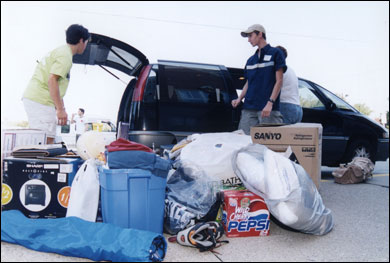 Carnegie Mellon welcomed 1,449 first-year students — and all of their computers, televisions, pillows and books — on Sunday for the weeklong Orientation 2006.
Carnegie Mellon welcomed 1,449 first-year students to campus on Sunday, Aug. 20 for Orientation 2006. Organized around the theme "Made from the Best Stuff on Earth," this year's orientation will introduce incoming students to Carnegie Mellon, Pittsburgh — and each other — through a weeklong series of events on and off campus.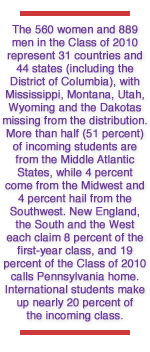 The week's activities began on Sunday, when first-year students moved into campus housing. After carrying computers, microwaves and other dorm essentials to their rooms, they had ample opportunity to learn about Carnegie Mellon and Pittsburgh at programs scheduled throughout the day.
First-year students will spend the rest of the week learning about their academic programs and finalizing their schedules through information sessions and advising meetings. They'll also have a chance to meet faculty members and fellow students through special college-specific activities. New students in the College of Humanities and Social Sciences will embark on a Gateway Clipper cruise of Pittsburgh's three rivers on Aug. 22, while first-years in the Mellon College of Science will take their curiosity — and their sleeping bags — to an overnight stay at the Carnegie Science Center. The Tepper School of Business will present "Games Economics Play" for any interested new students who want to understand the challenges faced by economists, and students in the School of Computer Science will get a preview of their next four years in the "Computer Science All-Nighter" on Aug. 23.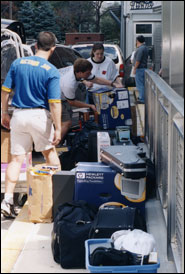 After carrying dorm essentials to their rooms, students and their families will have ample opportunity to learn about Carnegie Mellon and Pittsburgh at programs scheduled throughout the day on Aug. 20.

"The Orientation program at Carnegie Mellon is designed to make that big transition from high school to college much easier. Our staff of 100 orientation counselors plan to work hard throughout the week to make sure freshmen have a memorable experience and a great introduction to life at Carnegie Mellon," said Anne Witchner, assistant dean of Student Affairs and director of Orientation and First-Year Programs.

Orientation isn't just about academics — it's also about fun. First-year students will have plenty of opportunities to relax and enjoy themselves before they start classes Aug. 28. The fun starts Monday night with Carnegie Mellon's annual "Playfair," a class-wide icebreaker that helps new students mingle for the first time and make friendships that will last throughout their Carnegie Mellon careers. After Playfair, it's on to late-night snacks, Ultimate Frisbee, basketball and other activities until midnight. Future scientists and "CSI" fans alike can help solve a fictitious double-murder mystery during a one-hour forensics experiment, and anyone interested in knowing about the fascinating places where famous Carnegie Mellon grads got their start can join Vice President of Enrollment William Elliot on his "Intellectual Tour of Campus" on Aug 22. Other orientation highlights include:
Community Collage: Fellow Carnegie Mellon students present their experiences, reflections and cultural performances that help shape diversity on campus. Designed to help new students gain a foundation for dialogue, cross-cultural interaction and respect for cultural difference.

The Da Vinci Effect: Learn about how Carnegie Mellon's unique set of disciplines ranging from art to technology combine to create innovation with impact. This multimedia presentation will show first-year students what makes the university and its talented people distinct and valuable in today's world.

A Conversation with Herb Simon: A video interview with the late Herb Simon, Nobel Laureate and the Richard King Mellon University Professor of Computer Science and Psychology. He answers questions relevant to all new students, like "What does it mean to be an expert?" and "How do you find a career?"

Craig Karges—Mentalist, Illusionist and More: He'll make tables float and read the minds of first-year students.

The Carnegie Cup: First-year students compete in the annual Carnegie House Games, a series of physical and intellectual challenges. Winners hoist the Carnegie Cup and get bragging rights until graduation.

Almost Midnight Breakfast: Who says you have to eat breakfast in the morning? This late-night event offers the best of breakfast when most other people are asleep.

Talent Show: The Class of 2010 struts its stuff in the annual orientation talent show.
Carnegie Mellon will officially mark the start of the Class of 2010's collegiate careers at a convocation ceremony on Aug. 24. Faculty, staff and students will gather together to celebrate the arrival of the new class and the importance of the journey its about to make. The celebration will continue at a special convocation dinner and carry over to the University Center House Party, "The Party of the Year!" Students can try their luck at a casino, race through obstacle courses or dance the night away.
And they should do it while they can. The new academic year — and the projects and homework that come with it — are right around the corner.
For more information on Orientation 2006, visit http://www.studentaffairs.cmu.edu/first-year/orientation/2006/.

Susan Cribbs
August 17, 2006