Tepper School Start-Up Rings NASDAQ Stock Market Opening Bell
Moot Corp® Winner Developing Innovative Device To Measure Brain Pressure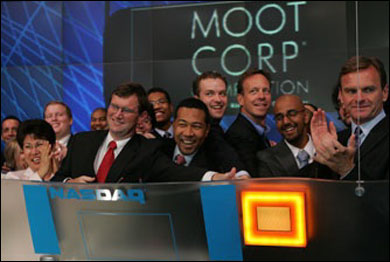 Rob Adams, MOOT CORP Director and partners of the Tepper School start-up NeuroLife Noninvasive Solutions ring The NASDAQ Stock Market Opening Bell. (Photo © Copyright 2006, the NASDAQ Stock Market, Inc. Reprinted with permission.)
This year's winning Global Moot Corp® team from the Tepper School of Business at Carnegie Mellon University rang The NASDAQ Stock Market Opening Bell this morning (Aug. 11) in New York City as one of its prizes from the annual business school contest known as the "Super Bowl of Business Plan Competitions." The winning venture, NeuroLife™ Noninvasive Solutions, is a medical technology company developing a new handheld diagnostic device that is the first in the world to measure brain pressure noninvasively.
More than 1.5 million patients suffer from brain injuries each year and approximately 3.6 million people in the United States are at risk of brain damage resulting from elevated brain pressure. The NeuroLife™ device measures brain pressure through a patient's eye using an ophthalmological technique, alleviating the risk of drilling holes to place invasive monitors in the brain and providing early detection for patients suffering from brain disorders caused by stoke, hydrocephalus, meningitis and accidents.
"NeuroLife™ illustrates the very best in analytic, creative and purposeful team thinking that addresses an unmet medical need by turning a concept for a breakthrough diagnostic device into a viable business that will truly save patients' lives," said the team's faculty advisor Art Boni, the John R. Thorne Chair of Entrepreneurship and deputy director of the Donald H. Jones Center for Entrepreneurship at the Tepper School. S. Thomas Emerson, the David T. and Lindsay J. Morgenthaler Professor of Entrepreneurship and director of the Jones Center, was the team's co-advisor.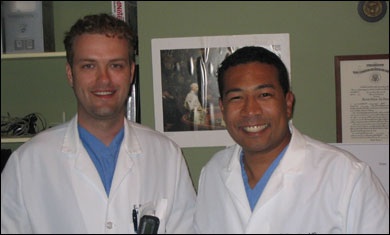 NeuroLife co-founders Daniel McChesney (left) and Ernest Braxton Jr.
Team members include NeuroLife™ co-founders Daniel McChesney (MBA'05) and Ernest Braxton Jr. (MBA'07), along with Adil Wali (MBA'07) and Franco D. Harris (MBA'07). McChesney and Braxton are physicians.
Now in its 23rd year, Moot Corp® is held annually at the McCombs School of Business at the University of Texas at Austin. In addition to earning their appearance at NASDAQ, the Tepper team received a prize package valued at more than $100,000, including $25,000 in cash, a year of business consulting and prosecution of its first American patent by the law firm Ropes & Gray.
This year's win is the second first-place finish at the Moot Corp contest for a Tepper School team in three years. NeuroLife™ also placed second in Fortune Small Business magazine's annual Student Showdown, a national business plan competition for MBA students, and took home top honors in the life sciences track of the McGinnis Venture Competition at Carnegie Mellon.
Founded in 1949, the Tepper School of Business at Carnegie Mellon (business.tepper.cmu.edu) is a pioneer in the field of management science and analytical decision making. The school's notable contributions to the intellectual community include six Nobel laureates and a consistent presence in the top tier of business school rankings. The Wall Street Journal recently ranked the Tepper School as the third-best business school in the United States and the world.

Geof Becker
Barbara Feldman
August 11, 2006