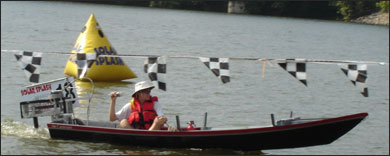 William Wedler (E'08) drives The Carnivore during the Solar Slalom event at the 2006 Solar Splash on Lake Fayetteville near the University of Arkansas. The Solar Slalom is a test of speed and maneuverability.
Mark Rockwell and his crew of fellow engineering students had modest and somewhat contradictory goals in mind when they set sail for their first Solar Splash, an intercollegiate solar-powered boating competition on Lake Fayetteville near the University of Arkansas this summer. They simply wanted the solar-powered boat they built to move across the water. And they also wanted to get their feet wet.
"Our goal [for this first competition] was to make a reliable boat, not a fast one. And we wanted to gain a familiarity with the competition," said Rockwell, founder and president of the new student club Carnegie Mellon Solar Splash.
They succeeded on both counts. Although their 14-foot-long boat, which traveled at a top speed of about 5 miles per hour, placed 14th overall in the field of 15, they earned a citation for "Notable Performance by a Rookie Team." The crew also learned a great deal at the competition, gaining insight into the many nuances of solar-powered boating.
A rising senior, Rockwell began organizing the club two years ago as Carnegie Mellon's sophomore representative to the American Society of Mechanical Engineers (ASME). He was looking for a new large-scale design project that would pique student interest and came across the Solar Splash, an ASME-sponsored event.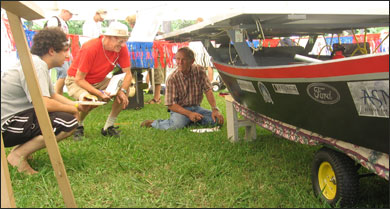 Mark Rockwell (E'07) looks on as Solar Splash judges examine The Carnivore's hull.
"It's a good fit for Carnegie Mellon. It's an interdisciplinary project that combines engineering and environmental principles. It gives you an awareness of how solar panels work and gives you exposure to solar power," Rockwell said.
"There was no other marine type of project on campus and it appeals to students interested in the environment and alternate fuel sources," he added. "It's a project that puts to good use the problem-solving skills you learn in the classroom."
During the second semester of his sophomore year, Rockwell began recruiting and organizing a team. He created posters that he displayed on campus, sent emails to his classmates and spoke about the new initiative to as many folks as possible. That summer he attended the Solar Splash to see what it was all about.
"I wanted to learn how the event was run and to understand what goes on. I wanted to be exposed to the atmosphere and to talk to other teams to see how they got started. It was an inspiration to me. I saw how rewarding and how much fun it could be," Rockwell said.

Carnegie Mellon Solar Splash team members include (left to right) Mark Rockwell (E'07), Luis Penalver-Aguila (E'07), Brian Hirsch (E'07), Andrew Choate (E'08), Siva Srinivasen (E'07), Mike Kaufman (E'07), Joshua Sztul (E'07) and William Wedler (E'08).
In September 2005, Rockwell and his newly established club began to meet once a week. They wrote a proposal for a Small Undergraduate Research Grant and started reaching out to marine supply and solar panel companies for donations and equipment, as well as knowledge and expertise. In January they started to build "The Carnivore."
The team purchased boat design plans from Glen-L. Marine in California for $40 and went to work. First, they built the hull using three 4' x 8' sheets of 3/16" okoume marine-grade plywood and one 4' x 8' sheet of 3/4" plywood. Bridgewater Marine donated the outboard motor, and the four 120-watt solar panels — which convert sunlight into electricity to power the battery and ultimately the motor — were acquired from Go Solar of Long Island, N.Y., for $1,600. Five car batteries were purchased for $600. The total cost of the project, including the trip to the competition, was about $6,500, which was largely funded by three Small Undergraduate Research grants totaling $5,500.
Rockwell and his crew took three months of Saturdays and Sundays plus spring break week to finish the hull. Once the hull was completed the team successfully put it to the test in Lake Arthur, north of Pittsburgh.
At the Solar Splash competition, "The Carnivore" was judged in seven different categories, including technical reports, visual displays, workmanship and maneuverability. On-the-water events included a Solar Slalom, which test speed and maneuverability, a 300-meter sprint and an endurance race.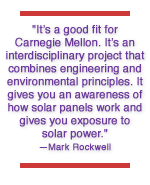 Overall, Rockwell and his colleagues — Joshua Sztul, Ming Huo, William Wedler, Andrew Choate and his sister Sara Rockwell (E'06) — were pleased with their performance, but they know they can do better.
"Our propeller was too small. That's the reason our boat didn't go as fast as it could have," Rockwell explained. "We got our feet wet this year, but next year we hope to move up in the standings."
For more on Carnegie Mellon Solar Splash, visit http://www.andrew.cmu.edu/org/solar-splash/
For more on Solar Splash, visit http://www.solarsplash.com

Bruce Gerson
August 7, 2006