USDA Grant Provides Research Opportunities for Gifted Minority Students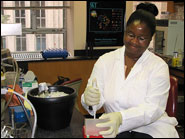 Alexis is developing molecular biosensors in the laboratory of Associate Professor of Biological Sciences Peter Berget that can monitor the biochemical environments of living cells.

While gardening with her parents and eight brothers and sisters on the Caribbean island of Grenada, Leslie Ann Alexis became a budding scientist. "My dad would always be able to look at the way the plants grew and the color and texture of the soil and get an idea of the soil's acidity. This fascinated me," she said.

While Alexis was gardening, Nigeria native Yetunde Junaid was skipping through works of literature in English and her native language, Yoruba. But despite her lifelong passion for literature, it took just one survey biology course in high school to get her hooked on the sciences.

Now, these women — current biology/biochemistry undergrads at the City University of New York (CUNY) — are using the careful, analytical skills they developed early in life and nurtured through high school to conduct world-class research at Carnegie Mellon through the university's Summer Undergraduate Research Program (SURP). Both students are in Pittsburgh this summer thanks to a $350,000 grant from the U.S. Department of Agriculture (USDA) to Carnegie Mellon's Department of Chemistry and CUNY that established a cooperative program to enhance minority students' laboratory skills and expand the science curriculum for CUNY undergraduates.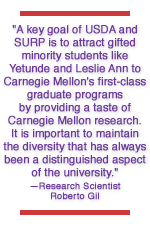 "A major focus of this program is to provide research experience for minority students coming from institutions that are not research-oriented," said Roberto Gil, Carnegie Mellon research scientist and director of its nuclear magnetic resonance spectroscopy facility. Gil was instrumental in securing the USDA funding. Among his many other roles, he meticulously arranged for the students' housing and overall comfort during their stay in Pittsburgh. In fact, he was so thrilled about their arrival that he personally picked them up at the airport and welcomed them to Pittsburgh.
"A key goal of USDA and SURP is to attract gifted minority students like Yetunde and Leslie Ann to Carnegie Mellon's first-class graduate programs by providing a taste of Carnegie Mellon research. It is important to maintain the diversity that has always been a distinguished aspect of the university," Gil said.
"Carnegie Mellon is a great school for science research. I am doing amazing research that fits my specific science interests," said Alexis, who plans to eventually pursue a Ph.D. in a biological sciences specialty. Carnegie Mellon is on the top of her list of prospective graduate schools, and she plans to apply here at the end of her undergraduate studies.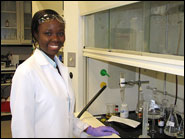 Junaid is working with Associate Professor of Chemistry Bruce Armitage to synthesize and characterize dyes for use in confocal scanning laser microscopy.

This summer, though, Alexis is developing molecular biosensors in the laboratory of Peter Berget, associate professor of biological sciences. These biosensors can monitor the biochemical environments of living cells, giving scientists the information they need to characterize biochemical pathways within the cytoplasm of living cells — a key step in drug discovery and disease diagnosis and treatment.

Junaid is working in the laboratory of Associate Professor of Chemistry Bruce Armitage. Her research involves synthesizing and characterizing dyes for use in confocal scanning laser microscopy, a tool that produces high-resolution images of thick specimens, like living cells, at varying depths. When completed, the dye will be able to bind to specific segments of DNA and "tag" these segments with fluorescence. Ultimately, such tags could be used in hospital- and office-based diagnostic medicine.

"I really like Carnegie Mellon and the city of Pittsburgh. I feel very comfortable and at home here, and love the research that I'm doing" Junaid said. "I think about my research all weekend and cannot wait to get back to the lab on Monday morning!"


Matthew R. Bittel
July 31, 2006