Carnegie Mellon Engineering Professor Wins Prestigious Emerald Award For Outstanding Recruitment of Minorities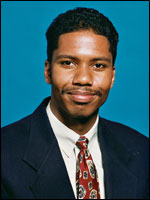 Electrical and Computer Engineering Professor Ronald D. (Shawn) Blanton has won a 2006 Emerald Award for outstanding leadership in recruiting and mentoring minorities for advanced degrees in science and technology.

Carnegie Mellon University's Ronald D. (Shawn) Blanton has won a 2006 Emerald Award for outstanding leadership in recruiting and mentoring minorities for advanced degrees in science and technology. Blanton, scheduled to be honored Sept. 16 during a gala celebration at the Baltimore Convention Center, joins an elite group of past winners who have done everything from designing missile defense systems for the U.S. Navy to helping computerize the U.S. government.

"It is both an honor and a privilege to be recognized by peers for my work in recruiting African Americans into the exciting fields of engineering and science," said Blanton, a professor in electrical and computer engineering and associate director of the Center for Silicon System Implementation (CSSI), where semiconductors are designed and tested.

The Emerald Awards, sponsored by Science Spectrum magazine, are billed as the premier awards for African Americans, Hispanics, Asian Americans and Native Americans working in the research sciences. A distinguished panel of academic and business professionals looks for candidates with extensive management and financial responsibilities, innovators in science and technology, and those who are respected within their organization.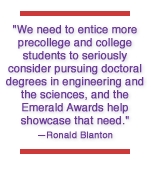 In addition to being recognized at the ceremony, this year's 25 award recipients will also be featured in Science Spectrum. The awards ceremony is the grand finale of the three-day Minorities in Research Science conference that attracts more than 4,000 participants to its numerous career fairs, training seminars and networking sessions.
"Multicultural communities are where the action is in finding, preparing and recruiting a new generation of science researchers in the United States," said Tyrone D. Taborn, editor-in-chief of Science Spectrum and CEO of Career Communications Group Inc., the company that produces the Minorities in Research Science conference and publishes Science Spectrum.
Pradeep K. Khosla, dean of Carnegie Mellon's College of Engineering, said Blanton's excellent research reputation, commitment to education and dedication to recruiting and mentoring underrepresented students in engineering made him an exceptional candidate for the Emerald Award. He also praised Blanton for his critical role in developing and implementing innovative recruitment programs at the recent National Society of Black Engineers (NSBE) convention in Pittsburgh. At the March convention, Blanton led an effort that doubled the number of prospective minority Ph.D. applicants who were interested in applying for graduate school at Carnegie Mellon's College of Engineering. The Carnegie Mellon exhibit, which featured graduate students, research scientists and professors from across the university, drew more NSBE participants than exhibits from other colleges and universities.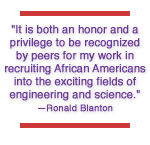 "We need to entice more precollege and college students to seriously consider pursuing doctoral degrees in engineering and the sciences, and the Emerald Awards help showcase that need," Blanton said. "We must also continue to stem the tide of post-secondary sluggish test scores in math and science, which is why the broader-impact mandate required by the National Science Foundation (NSF) to integrate education and outreach with cutting-edge research is so critical to the nation," said Blanton, who was recently a member of a committee that reviewed the Division of Computing and Communication Foundation of the NSF.
Despite efforts in many states to bolster science and engineering education, a key national test shows no improvement in middle and high school students' grasp of the subjects. The results of the National Assessment of Educational Progress (NAEP) are likely to heighten concern about the future competitiveness of American workers in science and technology, and to fuel corporate pressure on states and the federal government to do more for science education.
"Clearly, if we are to bring on a new cohort of science talent, we will have to engage the interests and dreams of people in the multicultural communities," Taborn said.
Blanton earned a bachelor's degree in engineering from Calvin College in 1987 and a master's degree in electrical engineering from the University of Arizona in 1989. He was awarded a Ph.D. in computer science and engineering in 1995 from the University of Michigan.

Chriss Swaney
July 24, 2006