Carnegie Mellon, University of Pittsburgh Receive $15 Million from NSF To Establish Center Focused on Improving Americans' Quality of Life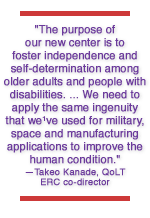 Carnegie Mellon University and the University of Pittsburgh (Pitt) have been awarded a five-year, $15 million grant from the National Science Foundation (NSF) to establish an engineering research center that will develop technologies to help older adults and people with disabilities live independently and productively.
Researchers at the new Quality of Life Technology Engineering Research Center (QoLT ERC) will create a scientific and engineering knowledge base enabling the development of intelligent systems that co-exist and work with people, particularly those with impairments. These intelligent systems could include devices that a person carries or wears, a mobile system that a person rides or that accompanies a person, or an environment equipped with instruments to aid people. These devices and systems will be able to monitor the health and activity levels of people living alone, prompt failing memories or control household appliances. Technology could be developed that will enable people to continue to drive safely as they age. The center will also look to improve existing assistive technologies, like wheelchairs, by adding capabilities that provide navigational and cognitive assistance, and will develop technologies for the workplace that increase the employability of people with disabilities.
Research at the center will build upon recent advances in intelligent system technologies, including machine perception, robotics, learning, communication and miniaturization, which until now have been used primarily in industrial, military or entertainment settings. The new center will be jointly directed by Takeo Kanade, the U.A. and Helen Whitaker University Professor of Computer Science and Robotics at Carnegie Mellon; and Rory Cooper, Distinguished Professor and FISA/PVA Chair of Rehabilitation Science and Technology at the University of Pittsburgh School of Health and Rehabilitation Sciences.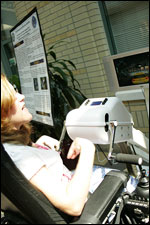 Lauren Hatcher demonstrates the GameCycle Exercise System, a modified, hand-pedaled ergometer that allows exercisers to play racing-style videogames during their workouts. The technology is one of many that Carnegie Mellon and Pitt hope to commercialize through the QoLT ERC.

Quality-of-life issues will consume more of the nation's resources as it faces a growing proportion of older adults and people with disabilities. Today, some 12 percent of the U.S. population is over 65. By 2030, the U.S. Census Bureau estimates that more than 20 percent of a projected population in excess of 300 million people will be 65 or older. And while approximately 60 million people in the U.S. have some kind of disability today, that number is expected to rise to 75 million by 2030.

"The purpose of our new center is to foster independence and self-determination among older adults and people with disabilities," said Kanade, one of the world's leading experts in robotics and computer vision. "If the technology we develop at the QoLT ERC can delay the need to send people from their homes to assisted-living or nursing facilities by even one month, we can save our nation $1.2 billion annually. We need to apply the same ingenuity that we've used for military, space and manufacturing applications to improve the human condition."

Cooper, an internationally recognized expert on wheelchair design as well as an accomplished wheelchair athlete, explained that the research agenda of the new ERC would be guided by both personal and societal needs. "We want to make sure we're developing technologies that are accessible, effective and user-friendly," he said. "We will involve focus groups and prospective users in the development process and give them the opportunity to provide feedback on prospective products. Issues of privacy, policy, aesthetics and user acceptance all will be considered, and we will delve into questions about market readiness as well as health plan reimbursement issues."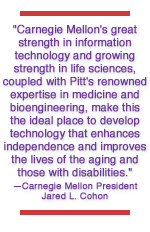 "This new Quality of Life Technology Engineering Research Center will benefit our region and our nation," said Carnegie Mellon President Jared L. Cohon. "With its large population of older adults, Pittsburgh is the perfect laboratory, a place to lead in developing solutions to the huge demographic trend that is affecting the United States and other industrialized countries. Carnegie Mellon's great strength in information technology and growing strength in life sciences, coupled with Pitt's renowned expertise in medicine and bioengineering, make this the ideal place to develop technology that enhances independence and improves the lives of the aging and those with disabilities.
"We also expect this work to be a catalyst for startup companies that will bring jobs to the region and further strengthen Pittsburgh's reputation as a center for development and commercialization of health-related technology," Cohon said.
"The creation of a scientific and engineering knowledge base that will result in new technologies — enabling not only older adults but also people with disabilities to prolong, preserve and improve their quality of life — is yet another benefit of the combined strengths of two powerhouse research universities," said University of Pittsburgh Chancellor Mark A. Nordenberg. "The partnership between Pitt and Carnegie Mellon already has produced such impressive and long-standing successes as the Pittsburgh Supercomputing Center, which also has enjoyed strong support from the National Science Foundation. We are confident that the outstanding team of investigators assembled to do the work of the Quality of Life Technology Engineering Research Center will maximize its potential, and we are deeply grateful to the National Science Foundation for its continued trust in us."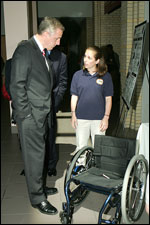 Congressman Tim Murphy (R-Upper St. Clair) learns about one of the technologies that Carnegie Mellon and Pitt officials believe will help people with disabilities live more independently and productively.

Carnegie Mellon Vice Provost for Research Computing Howard Wactlar and Richard Schulz, associate director of the University of Pittsburgh Institute on Aging, will oversee the new center's research agenda. Jim Osborn, director of Carnegie Mellon's Medical Robotics Technology Center, will serve as its executive director.

The Quality of Life Technology Engineering Research Center has been a dream of Carnegie Mellon and Pitt researchers for many years. The team received strategic support and seed funding in the form of a $500,000 Opportunity Grant from the Pittsburgh Life Sciences Greenhouse (PLSG), which was significant in securing the NSF grant. The PLSG will continue to work with the center and other regional economic development groups, including The Technology Collaborative, Innovation Works and the Pittsburgh Technology Council, to accelerate development of QoLT products and their introduction to the marketplace.

Pitt and Carnegie Mellon have jointly operated the highly successful, NSF-sponsored Pittsburgh Supercomputing Center since 1986. In 2004, the two universities received a $25 million NSF grant to create the Pittsburgh Science of Learning Center.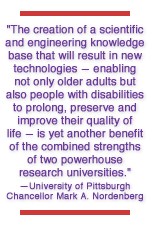 During the past two decades, Carnegie Mellon has hosted two NSF engineering research centers — the Engineering Design Research Center, which was established in 1987 and is now the Institute for Complex Engineered Systems, and the Data Storage Systems Center, established in 1990. Pitt is the lead institution for NSF's Center for e-Design and Realization of Engineered Products and Systems, an innovative program established in 2003 to revolutionize product development by incorporating input from consumers and manufacturers into the design process.
For more information on the Quality of Life Technology Engineering Research Center, see www.qolt.org.

Anne Watzman, Byron Spice & Kelli McElhinny
July 17, 2006