National journalists Catherine Cooney, Zachary Coile and Chuck Quirmbach visited a coal mine (see image below) and several labs at the National Energy Technology Lab in Pittsburgh during their Steinbrenner Institute for Environmental Education and Research fellowship.
National journalists Zachary Coile, Catherine M. Cooney and Chuck Quirmbach recently spent a week on the Carnegie Mellon campus meeting faculty and getting a personal look at some of the university's environmental research as media fellows of the second annual Steinbrenner Institute for Environmental Education and Research.
Coile, a correspondent for The San Francisco Chronicle's Washington, D.C., bureau, Cooney, senior associate editor of Environmental Science and Technology in Washington, D.C., and Chuck Quirmbach, a reporter and producer for Wisconsin Public Radio, interviewed more than 20 Carnegie Mellon professors and researchers June 19-23.
"This fellowship is a wonderful way for media to get to meet and discuss key environmental issues with some of the nation's leading experts," said Cooney, who covers a broad range of environmental and policy issues.
Quirmbach, who attended the 2004 Society of Environmental Journalists (SEJ) Conference at Carnegie Mellon, praised the Steinbrenner fellowship for helping educate journalists about new environmental research and key issues facing environmental reporters.
"It was a chance for me to get back to campus and meet some of the faculty and researchers I missed at the conference," he said. Carnegie Mellon hosted more than 300 journalists at the SEJ's 14th annual conference Oct. 20-24, 2004.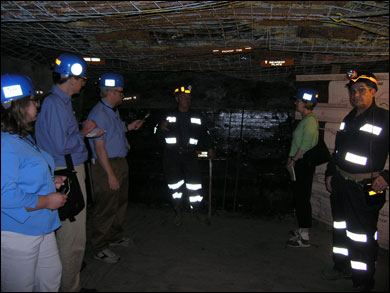 Coile said he really liked the casual pace of the fellowship. "We had time to sit, chat and digest all the wonderful material we amassed at the fellowship."
The reporters met informally with researchers in labs and in the field. Their interviews spanned everything from green design and green buildings to air quality, water quality, green chemistry, risk management and alternative energy issues. The reporters also visited the National Energy Technology Laboratory (NETL) in Pittsburgh, where Carnegie Mellon faculty are working on a handful of research projects with NETL researchers. The journalists took a tour of a coal mine and visited several labs involved with fuel cell work and coal gasification.
Chris Hendrickson, faculty director of the Steinbrenner Institute for Environmental Education and Research and a professor of civil and environmental engineering, said the fellowship is an opportunity to have a dialogue with the media that can improve public discussion and understanding of critical environmental issues.
"The faculty have been great about participating and sharing their broad range of work with the media," said Deborah Lange, executive director of the Steinbrenner Institute. "We really want journalists to go away with the knowledge that they can use Carnegie Mellon as a resource for stories."
Working as a catalyst, the Steinbrenner Institute for Environmental Education and Research promotes global scale research and encourages timely educational programs.
In addition to media fellowships, the Steinbrenner Institute also supports a Media Boot Camp program designed to help faculty improve communication skills so essential in working with all media sectors, including print, broadcast and online outlets.

Chriss Swaney
July 11, 2006