Carnegie Mellon Students "Showcase" Talents for Entertainment Industry's Finest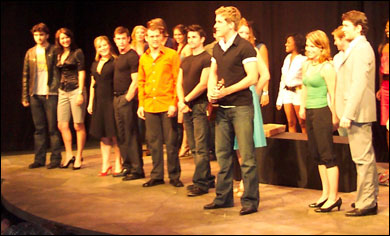 The 2006 seniors take a bow after the first Showcase in Los Angeles.
Many people move to Los Angeles every year in the hopes of making it big as an actor. But precious few have the talent to make it or even the courage to attend an audition, which can be the most grueling time for an actor — standing alone in front of a crowded room on an empty stage, knowing that the people in front of them can make or break their careers.
Such was the scenario at Carnegie Mellon University School of Drama's annual Senior Showcase event. This year, the Class of 2006 performed in front of the country's most notable talent agents, casting directors, personal managers and directors — people who have been integral in launching successful show-business careers.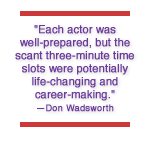 Showcase is the ultimate professional development tool for the school's graduating actors. Having such a stellar audience of entertainment industry professionals in attendance is a result of a strong alumni network, the great accomplishments of its alumni and the success of previous Showcase events.
Two events are held each year — one in New York and one in Los Angeles — for students who dream of acting on Broadway, in film or in television. The New York Showcase was held in Times Square's Lamb's Theater in March, and the Los Angeles event was held in early May at actor and director Garry Marshall's Falcon Theater in Burbank. In each city, students performed twice each day for a total of four performances that accommodated their potential employers' busy schedules. Each Showcase lasted approximately one hour.
At the first Los Angeles Showcase nerves were high. Marshall came to check on his theater and wish the anxious students well.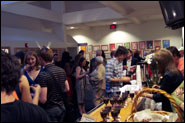 Following the Showcase, students mingled with talent agents, casting directors and other entertainment professionals during a reception in the Falcon Theater lobby.

"Each actor was well-prepared, but the scant three-minute time slots were potentially life-changing and career-making," said Showcase Director Don Wadsworth, who looked more nervous than his students. "When all the Showcase events are over, the actors will have shown their work to nearly 700 industry professionals. Naturally the anxiety was high to get it just right. The scenes, monologues and songs were refined for weeks before the Showcase was offered in New York and then refined again for the west coast showings."

An hour before the start of Showcase, the stage was full of students rehearsing by themselves or with a scene partner. The stage was loud and active. Cote de Pablo (A'00), one of the stars of CBS's crime drama "NCIS," found time to show up early and lend her support to the budding actors. While the production students tested the stage lighting, Wadsworth called all the performers to the stage and directed them to do warm-up drills for 10 minutes. After the warm-up, students continued to practice their material. Two seniors, Dan Amboyer and Ashton Heyl, rehearsed a kiss while, stage left, Asher Arnold and Ryan Bechard practiced a brutal stage fight.

The stage was dressed with only a black three-foot by four-foot wooden box, located center stage with a black curtain behind it. Wadsworth gave a cue that it was time to begin and the students hurried backstage. The lights flickered to notify attendees that the Showcase was about to begin. de Pablo sat stage left and talent agents, directors, and managers shuffled into the dark 400-seat theater.
de Pablo recalled her feelings prior to her own Showcase audition. "I think we all go through a similar experience, which is intense nerves and lots of expectations. What they should know having gone though this is that it's not the end of the world if nothing happens. For me, I had no idea what this whole thing was about. Now I know. I work with people in different fields in the theater and I would not have it any other way," she said.
de Pablo took the stage to do the introduction. She finished and the lights dimmed. Khaliah Adams entered from stage right and performed an intense, riveting solo from the play "Crowns" by Regina Taylor that set a serious tone. Adams' performance lasted no longer than three minutes, but it showed her audience just what she could do and how well she could do it. Once Adams finished, peer Patina Miller joined her on stage to perform a film scene from "Love Jones" by Theadore Witcher. This format lasted throughout the event, with students performing a solo then performing with one another. The work the students performed ranged from Nilo Cruz's serious "Anna in the Tropics," performed by Paloma Guzman and Raffi Barsoumian, to Naomi Wallace's light-hearted "Birdy," performed by Andrew Kober and Michael Strassheim.
Twenty-six graduating seniors performed 35 different parts of musicals or plays. When Anderson Davis completed his solo performance, the first Showcase finished with applause. Immediately after, the students took the stage, introduced themselves and mingled with their potential employers.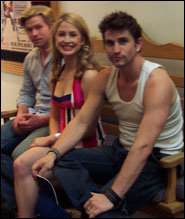 Students anxiously await their call to the stage.

"The nerves did not hit me at all until 10 minutes before I had to go on," said a slightly out-of-breath Kober. "I was completely fine up to that time, and then I heard 'OK, places.' Then my nerves set in. But it wasn't too bad."

"CSI: New York" star Melina Kanakaredes, a graduate of Point Park University and a former student of Wadsworth's, came to wish her fellow Pittsburgh friends good luck as did Abby Brammell (A'01), currently acting in CBS's "The Unit."

"They're ready to work and impeccably trained," said Brammell, who introduced the second Showcase event that day. "At Carnegie Mellon we were trained to honor the whole theatrical process. Showcase, for me, was liberating because I was about to leave school and I was ready to take the step. It was nerve-racking. Just getting your outfit right was difficult."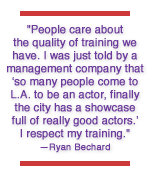 Paula Wagner (A'56) of Cruise/Wagner Productions came to introduce the next day's audition. Reporters from Variety Magazine and the webzine Box Office Mojo attended, adding more stress for the students. All four events were sold-out.
"The experience has been extraordinarily positive. People care about the quality of training we have. I was just told by a management company that 'so many people come to L.A. to be an actor, finally the city has a showcase full of really good actors.' I respect my training," Bechard said.
For more on Showcase, visit http://www.cmushowcase.com/theactors/index.htm

Eric Sloss
June 22, 2006