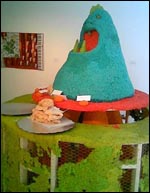 Alumna Lauren Urbschat's "Marshmallow Mediation: Take One."

Snap! Crackle! Chomp!

Help yourself to a sticky sweet Rice Krispie treat. It's what artist Lauren Urbschat intended for visitors of "Pittsburgh's Best 2006," the opening act for Pittsburgh's annual Three Rivers Arts Festival, where her edible sculpture was first showcased alongside the work of other promising area artists.

Beneath a 3,000 ounce mass of Rice Krispie treats, artists and guests at the art show munched away on the outer "eggshell" of Urbschat's sculpture to expose the green Rice Krispie monster gestating inside. With help of culinary art students, Urbschat used the simple — but sublime — recipe of marshmallows, butter and Rice Krispies to create her medium. Household red and green food coloring was used to dye the sculpture and wood frames and chicken wire were used to form the sculpture's base.

But, sad to say, the premiere of "Pittsburgh's Best 2006" was the only time to commune with your inner child and literally partake in art — at least in Urbschat's "Marshmallow Mediation: Take One." Through June 18, when the festival concludes, the sculpture falls in line with the rest of the artwork on display: Look, but don't snitch.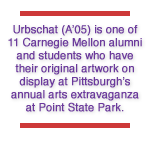 Urbschat (A'05) is one of 11 Carnegie Mellon alumni and students who have their original artwork on display at Pittsburgh's annual arts extravaganza at Point State Park, and other venues throughout downtown Pittsburgh. A third of the 33 artists selected to present their work hail from either the graduate or undergraduate fine arts program at Carnegie Mellon.
For several months exhibit curator Katherine Talcott toured private studios around town to discover the work of emerging and established artists. Three artists were invited to present their work at Pittsburgh's Best, but Talcott carefully selected the work for the remaining pieces on display. She said one stipulation for the exhibit was that this be the first public showing for the artist's sculpture, painting or installation.
How does "Pittsburgh's Best 2006" differ from artwork in past years?
"This year there is definitely more video," says Carin Mincemoyer (A'94), exhibitions coordinator of the Three Rivers Arts Festival. "We've had to keep replacing the batteries to keep the equipment going."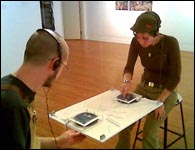 Carnegie Mellon graduate student Ally Reeves listens to her interactive art piece, "Reaching Across A Distance: The Sound of It," with artist Shaun Slifer.
After the exhibit's first weekend, fine arts master's degree student Ally Reeves (A'08) was one of the artists checking her batteries. Her installation doesn't include video, but the two CD players in her "Reaching Across A Distance: The Sound of It" require regular battery maintenance. Reeves' piece captures the harsh sound of Pittsburgh area bridges when struck with a hammer. The result is a cacophony of steel spanning three rivers.
Intrigued by art found in urban environments, Reeves said she wanted to create "a sonic description of a place."
"Sounds befall where someone is," she says.
Reeves realized that to discover her vision, she might arouse suspicion by lingering around bridges with a hammer and recording equipment. Hence, to record the bridges of Allegheny county, Reeves stealthily worked during several early mornings last winter.
"I didn't want to explain I was making art," says Reeves.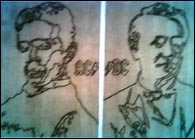 Chris Craychee's (A'96) "Powerfeud c. 1893" features the respective advocates of alternating and direct current electricity (AC/DC) Nikola Tesla (left) and Thomas Edison.

Artwork for "Pittsburgh's Best 2006" is on display at the Three Rivers Art gallery at 937 Liberty Avenue in downtown Pittsburgh. The gallery is easy to spot. More than 6,500 plastic army soldiers are super-glued to the windows. The toy figures, marching in cadence up the second and third story windows facing Liberty Avenue, are courtesy of artist Brett Yasko's "Why?"

In addition to Urbschat and Reeves, Carnegie Mellon alumni exhibiting in the festival include Josh Bonnett (A'00), Chris Craychee (A'96), Adam Grossi (A'03), Noel Hefele (A'02), Chris Kardambikis (A'05), Carolina Loyola (A'00), Matteo Nunzio Orsini (A'05), Jairan Sadeghi (A'05) and Terry Young (A'01).

For more on the Three Rivers Arts Festival see, http://www.artsfestival.net/2006Festival/artprojects.html#Anchor-5355


John Worlton
June 12, 2006