Carnegie Mellon Costume Design Professor Earns 2006 Tony Award Nomination
School of Drama Faculty Member Earns Nod for "The Color Purple"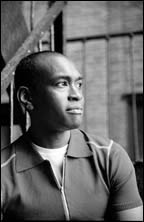 This is Paul Tazewell's second Tony nomination for Best Costume Design for a Musical, having received one for his contributions to the 1996 show "Bring in 'Da Noise, Bring in 'Da Funk."

Paul Tazewell, an associate professor of costume design in Carnegie Mellon University's School of Drama, has been nominated for a 2006 Tony Award in the category of Best Costume Design for a Musical. Tazewell is being honored by the American Theatre Wing for his work in the new Broadway musical "The Color Purple." The 60th Annual Tony Awards will be broadcast at 8 p.m., Sunday, June 11 on CBS.

"Paul's colleagues at the School of Drama are delighted that the Tony Award nominating committee has chosen to honor his remarkable work on 'The Color Purple' with a nomination," said Elizabeth Bradley, head of the School of Drama. "Spanning multiple periods and representing a mosaic of characters reflecting every aspect of human experience, Paul Tazewell's sensitive nuanced artistry created a remarkable and seductive world. Our students know and celebrate that he is as much a gifted educator as he is professionally accomplished. We are enormously proud of his accomplishments."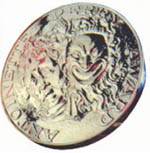 The Antoinette Perry (Tony) Award depicts the masks of tragedy and comedy. (Courtesy Tony Award Productions)

Produced in part by Oprah Winfrey and Quincy Jones, "The Color Purple" has received 11 Tony Award nominations. The show is based on Alice Walker's 1982 novel and is running at the Broadway Theater in New York City.

Brian Scott Lipton of TheatreMania.com reports, "Arguably, the show's most gargantuan task belongs to costume designer Paul Tazewell, who has created nearly 250 outfits for the cast. 'There is such great joy in doing a piece like this, where there is such variety in body types and so many different time periods,' he [Tazewell] says. 'The show covers 1909-1945. And because of how the production is designed, the costumes have to give some of the information that subtitles might in a film, like when the day changes or when we're in a new time period.'"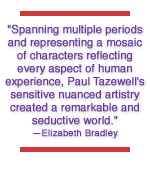 A faculty member in the School of Drama for three years, Tazewell has nearly 15 years of freelance experience, designing for both on- and off-Broadway shows, as well as for regional and international theater, dance and opera productions. This is Tazewell's second Tony nomination for Best Costume Design for a Musical, having received one for his contributions to the 1996 show "Bring in 'Da Noise, Bring in 'Da Funk." He most recently designed for "Hot Feet," which is also running on Broadway.
Tazewell, 41, graduated from the North Carolina School of the Arts and NYU's Tisch School of the Arts. He has received the Lucille Lortel Award, three Helen Hayes Awards and the 2005 Princess Grace Foundation Statue Award. His extensive resume includes work on a number of Broadway shows, such as "Caroline, or Change," "A Raisin in the Sun," "Drowning Crow," "Elaine Stritch at Liberty," "Def Poetry Jam," "On the Town" and "The Gershwins' Fascinating Rhythm."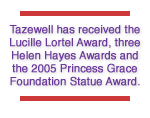 The School of Drama is one of the nation's most distinguished degree-granting professional theatre conservatories. It is one of five schools within Carnegie Mellon's College of Fine Arts, a community of nationally and internationally recognized artists and professionals organized into Architecture, Art, Design, Drama and Music, and their associated centers and programs.
For more information on the School of Drama or the College of Fine Arts, see www.cmu.edu/cfa or contact Eric Sloss at 412-268-5765 or ecs@andrew.cmu.edu.

Eric Sloss
June 8, 2006