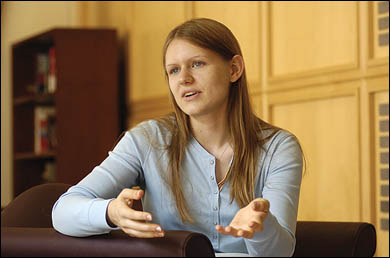 Claire Tomesch says she'll be applying her lively approach to problem-solving this summer on projects involving image signal processing and nonlinear wave analysis, methods used to process electronic data and information.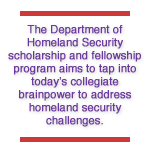 Claire Tomesch's love for math and physics may someday help someone crack the code of an encrypted electronic message between Al-Qeada operatives, diffusing a terrorist attack and saving the lives of thousands of Americans.
Tomesch, a junior math major in Carnegie Mellon's Science and Humanities Scholars Program from Succasunna, N.J., received a prestigious 2005 Department of Homeland Security scholarship. The federal scholarship and fellowship program established in 2003 aims to tap into today's collegiate brainpower to address homeland security challenges and encourage future scientists and engineers to dedicate their professional lives to securing U.S. borders.
"The challenge of securing our nation across a wide range of threats requires a new generation of scientists and researchers focused on the Homeland Security mission," said Charles E. McQueary, under secretary for science and technology, in an official statement from DHS Press Secretary Donald Tighe. "This exceptional group of scholars reflects our commitment to engaging the intellect and innovation of today's students for the long-term security of America."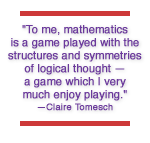 During their junior and senior years, DHS scholars are awarded full tuition and fees, a $1,000 monthly stipend for nine months and $500 per week during a summer internship at a DHS-affiliated facility. This summer, from June 6 to Aug. 18, Tomesch will intern at Pacific Northwest National Labs in Richland, Wash., where she'll work on a project involving image signal processing and nonlinear wave analysis — methods used to process electronic data and information.
Tomesch, one of 130 students to receive a 2005 scholarship or fellowship from an applicant pool of nearly 700, said she heard about the program through the Mathematical Sciences Department. She said the in-depth application, which took her a couple of weeks to complete, included several essays and a personal statement.
"My essays were about how I could use my work in mathematics to contribute to homeland security. I wrote about the advances in quantum cryptography that could come about as a result of its connection with areas of pure mathematics, and new cryptographic schemes based on the braid group.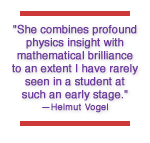 "To me, mathematics is a game played with the structures and symmetries of logical thought — a game which I very much enjoy playing. It is this lively approach to problem solving that I look forward to applying this summer," said Tomesch, who plays the violin in Carnegie Mellon's All University Orchestra.
The DHS couldn't have selected a better student according to Physics Professor Helmut Vogel, who has employed her as a teaching assistant.
"I cannot praise Claire Tomesch highly enough. She combines profound physics insight with mathematical brilliance to an extent I have rarely seen in a student at such an early stage," Vogel said. "While still a freshman she was the undisputed number one among 62 students in the honors course Matter & Interactions II, which I taught in the Spring 2004 semester. I have since hired her twice as an undergraduate TA for the same course, as I taught it again in 2005 and 2006."
In addition to serving as a TA for Vogel, Tomesch has also been a substitute teacher for him.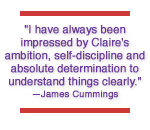 "Just a few weeks ago, as I was out of town at a conference for a week, I entrusted her to teach the course and she did it outstandingly well. I normally entrust such substitution only to select faculty colleagues!" he said.
Assistant Mathematical Sciences Professor James Cummings also offered praise. "Apart from her obvious mathematical talent — she is already taking some of our more advanced graduate classes — I have always been impressed by Claire's ambition, self-discipline and absolute determination to understand things clearly. She will go far," Cummings said.
After completing her internship, Tomesch is on track to earn her bachelor's and master's degrees in math in May 2007. She said she will probably be offered employment by the DHS following graduation but she will opt to pursue a Ph.D.

Bruce Gerson
June 5, 2006