Carnegie Mellon's Entertainment Technology Center Makes Learning Economics Fun and Games

Students at Carnegie Mellon University's Entertainment Technology Center (ETC) have designed "Gamenomics," a fun, educational, multiplayer management simulation game that helps students learn basic economic concepts like those found in an introductory economics course. The game is geared toward college and university students.
"Gamenomics is valuable because it is industry-independent; interactive, so students can manipulate what they are learning; and networked, so students can play the game anywhere in the world," said David Lamont, associate professor of business strategy in the Tepper School of Business. "The project is also unique because the outcomes rely on players' interactions with other players. Students are able to learn about supply-chain management and integration in addition to economics. Most importantly, the game is fun," Lamont said.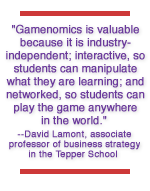 While Gamenomics is based on player interaction, it is beneficial as an educational tool because a professor can guide the students in understanding the economic principles involved. The professor can use an interface to manipulate the market economy so students can observe and interact with economic and business concepts. The game is designed for a class of five to 50 students and a professor.
In the game, players buy factories, produce goods and compete with each other in a realistic market economy simulation. Players have to make difficult business decisions, such as which markets to enter, at what prices to buy and sell, and how many units to produce — all while dealing with cash flow problems, supply-chain bottlenecks and competition from other players.
Master of Entertainment Technology students working on the project are Howard Braham, Albith Delgado, Lucas Machado and Samuel Spiro. Josh Yelon is the ETC advisor for the project and Lamont, who plans to use the game in his graduate microeconomics class this fall, is the external advisor.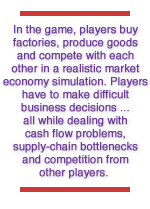 The Entertainment Technology Center at Carnegie Mellon offers an interdisciplinary master's degree program with the College of Fine Arts and School of Computer Science. Although students come from both fine arts and technology backgrounds, they are not expected to master both fields. Instead, the program focuses on honing the students' existing skills and teaching them to work effectively with other professional groups. Carnegie Mellon is the only university to offer a Master in Entertainment Technology (MET) degree.
For more information on this or other ETC projects and awards, visit www.etc.cmu.edu. For more information about the College of Fine Arts, contact Eric Sloss at 412-268-5765 or ecs@andrew.cmu.edu.

Eric Sloss
May 25, 2006