Christa Romanosky Earns Top Student Employee Honors for Developing New Leaders in Learning Outreach Program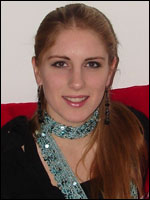 Senior creative writing major Christa Romanosky was named Student Employee of the Year, not only at Carnegie Mellon, but also at the state and regional levels.

Christa Romanosky has always had a passion for working with children, and since last summer she's channeled this passion into creating a community service initiative that brings inner-city children to Carnegie Mellon for tutoring. A year after she began the program, her passion is paying off—and not just in the results she sees in the children she helps every day. Romanosky was named Student Employee of the Year, not only at Carnegie Mellon, but also at the state and regional levels.

After a long-standing tutoring program at Carnegie Mellon ended, many students complained about the loss, but had no ideas for replacing the program. Romanosky came forward to analyze the previous initiative and create a new foundation built on the strengths of the former program.

Romanosky, a senior creative writing and psychology major in the College of Humanities and Social Sciences, created the Leaders in Learning program, a literacy improvement program for students in grades three through five. The program employs 25 university students who tutor and mentor 52 students from four different elementary schools in Pittsburgh's Hill District. The program exposes children to speakers and topics that they would not otherwise encounter. In addition, the students develop speaking and writing skills as they discuss and reflect on the activities they complete in a series of workshops on topics such as theater, anti-drug/violence and the spoken word.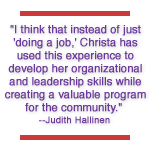 Romanosky worked intensively through the summer and fall of 2005 to develop Leaders in Learning. She designed orientation materials for the tutors, created educational materials for the students in the program and communicated with parents and elementary schools to coordinate enrollment. She developed a budget proposal and used her knowledge of Carnegie Mellon to formulate a comprehensive training program for new tutors. Romanosky was also able to communicate with and involve both Carnegie Mellon students and staff members in the initiative, which led to a balanced program.
Judith Hallinen, director of the Leonard Gelfand Center for Service Learning and Outreach, nominated Romanosky for the Student Employee of the Year Award. She praised Romanosky's achievements and ability to create Leaders in Learning.
"I have worked at Carnegie Mellon for more than 21 years and while I have worked with many dedicated students, Christa stands out as one who is not the 'typical' student employee. I think that instead of just 'doing a job,' Christa has used this experience to develop her organizational and leadership skills while creating a valuable program for the community," Hallinen said.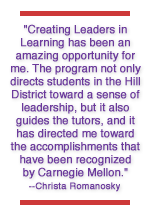 Romanosky was selected as Carnegie Mellon's representative for the National Student Employment Association Student Employee of the Year Recognition Award. There were 620 nominations from 26 institutions. In addition, she was selected as the State of Pennsylvania Student Employee of the Year and the Northeast Region Student Employee of the Year. Romanosky was awarded a plaque and a gift certificate to Barnes & Noble. She also received a $100 U.S. Savings Bond from Carnegie Mellon.
"I am so grateful for the chance to bring a literacy program like Leaders in Learning to the Carnegie Mellon campus," she said, "Creating Leaders in Learning has been an amazing opportunity for me. The program not only directs students in the Hill District toward a sense of leadership, but it also guides the tutors, and it has directed me toward the accomplishments that have been recognized by Carnegie Mellon."

Vijay Jesrani
May 18, 2006