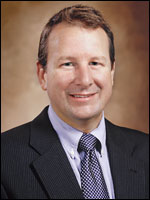 Richard D. McCullough has been appointed to a second five-year term as dean of the Mellon College of Science.

Richard D. McCullough has been appointed to a second five-year term as dean of Carnegie Mellon University's Mellon College of Science (MCS). McCullough, a professor of chemistry renowned for his research in plastics that conduct electricity, was lauded by faculty for his visionary, strategic leadership of MCS during his first term.

"Rick has been an outstanding dean, and I am delighted he is willing to serve for another five-year term," said Mark Kamlet, senior vice president and provost of Carnegie Mellon.

A committee of senior MCS faculty approved the reappointment in a unanimous vote, calling McCullough "an extremely effective dean" in its executive report. "He acts strategically and is supportive of the programs and faculty in the college."

McCullough was praised on a number of critical fronts, including his grasp of the science in the college, his skill as a spokesperson, his support of department initiatives, and his rapport with college alumni and friends.

"I am deeply honored to be reappointed as dean at this exciting time in our college's history," McCullough said. "Our college has recruited and retained outstanding faculty, and we are experiencing record enrollments in many of our programs. These indicators attest to the tremendous support I have received from Carnegie Mellon's administration and from the faculty and staff at MCS who have worked tirelessly to advance our mission."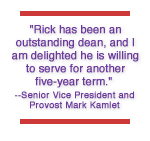 In a memo to the MCS community, Kamlet noted that each of the MCS departments has done well during McCullough's first five-year term. He pointed out the hiring of excellent new faculty and the rising number of undergraduate applications to MCS. He also said that research in the college has steadily increased in all areas during McCullough's tenure.
U.S. News & World Report magazine's 2007 edition of "America's Best Graduate Schools" ranked Carnegie Mellon's Ph.D. program in biological sciences 36th best in the nation. In 2002, the last time the sciences were assessed, the Ph.D. program was rated 54th.
McCullough became dean in 2001 after leaving his post as head of the Chemistry Department, a position he held from 1998 to 2001. Originally from Dallas, Texas, McCullough earned his bachelor's degree in chemistry in 1982 from the University of Texas at Dallas. In 1988, he completed his Ph.D. in organic chemistry at Johns Hopkins University and went on to work as a post-doctoral fellow at Columbia University. He joined Carnegie Mellon in 1990.
Since coming to Carnegie Mellon, McCullough has been active on many committees to recruit university leaders in research and administration. As dean, he has helped to build upon Carnegie Mellon's strength in biotechnology and has guided the university's strategic planning in biotechnology as a member of the Biotechnology Implementation Committee.
As dean, McCullough is responsible for overseeing the education provided to 716 undergraduates and 246 graduate students in the college's four departments of biological sciences, chemistry, mathematical sciences and physics. MCS has 211 faculty members and post-doctoral associates.
McCullough is well known for his initial discovery of inherently conducting plastics and his subsequent research to develop and commercialize them for a wide variety of applications. Called regioregular polythiophenes (RRPs), these plastics conduct — rather then impede — electricity. Since their discovery, McCullough and his team have made a series of key advances, both in finding inexpensive methods to produce RRPs and in creating chemistries that enable their use in versatile settings. RRPs promise to reduce costs and improve product quality for applications like disposable ID cards, touch panels, printed electronics, organic light-emitting diodes, chemical sensors and solar electricity.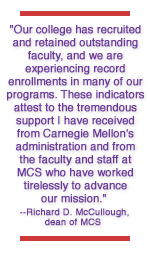 McCullough's RRPs formed the basis of a Carnegie Mellon spin-off company, Plextronics Inc. (www.plextronics.com). As co-founder and chief science officer for Plextronics, McCullough received the 2006 Carnegie Science Center Award for Excellence for a Start-Up Entrepreneur. In 2004, InnovationWORLD designated the Harmarville-based company as one of the 21 most promising companies that "investors, foreign locations, professional services firms and other organizations seeking to support expansion-stage companies should be talking to and working with."
McCullough has given more than 110 invited lectures throughout the world since 1991 and has authored or co-authored 75 scientific articles in peer-reviewed journals. He has mentored 15 graduate students in his laboratory and 37 undergraduates, many of whom have gone on to pursue challenging, creative work in industry and academia.
A member of the American Chemical Society, McCullough received that organization's Akron Section Award in 2002. This honor, bestowed on scientists and engineers under age 45, recognizes those who "demonstrate exceptional promise for making significant contributions to chemical science." McCullough is also on the editorial board of Advanced Materials and has served as an editorial board member for the Journal of Materials Chemistry.
McCullough's expertise in the science and technology of materials chemistry and engineering has made him a widely recognized consultant in industry. He has served on a technical advisory board for BFGoodrich Performance Materials and has consulted for the Polaroid Corporation. His groundbreaking research has been funded by organizations including the National Science Foundation, the Air Force, AT&T, NATO and the American Chemical Society.
McCullough and his wife, biologist Jai Vartikar, have two sons, Dylan and Jason, and reside in the Fox Chapel area near Pittsburgh.
The Mellon College of Science at Carnegie Mellon develops innovative research and educational programs in a range of scientific, interdisciplinary areas. For more information and to see the executive report summary on McCullough's reappointment, visit www.cmu.edu/mcs.

Lauren Ward
May 4, 2006