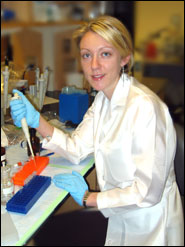 Working in a lab at the Hillman Cancer Center at UPMC Health System, Kimberly Kicielinski, a senior chemistry and psychology major, may have helped to find a new drug for the treatment of kidney cancer.

Senior Kimberly Kicielinski has made a discovery that sent her to the nation's capital not once, but twice in April. During the first week of the month she took her work to the American Association of Cancer Research (AACR) and during the last week she met with legislators on Capitol Hill.

Working in a lab at the Hillman Cancer Center at UPMC Health System, the senior chemistry and psychology major may have helped to find a new drug for the treatment of kidney cancer. Technically, she successfully isolated the enzyme, CYP3A4, which metabolizes the drug Benzaldehyde Dimethane Sulfonate (BEN), which has shown an ability to fight off Renal Cell (kidney) Cancer.

A scientific research team led by Dr. Merrill Egorin, UPMC Professor of Medicine and Pharmacology, is studying BEN and performing preclinical research on the drug. Isolating and studying CYP3A4 will enable future research to optimize the use of BEN in cancer patients.

BEN is especially promising, according to Kicielinski, because it blocks duplication of genetic material (DNA) that drives cell activity associated with cancer growth.

Normally, the double helix of a DNA strand unwinds and reveals two complementary strands that serve as templates for building new DNA double helices.

"BEN has a branched side arm that can easily interact with these DNA pairs," Kicielinski explains. "This interaction renders the DNA incapable of replication. Since it has two of the sites, BEN is capable of cross-linking DNA — or binding to complementary strands. This prevents replication by preventing the DNA from unzipping, rendering both strands useless."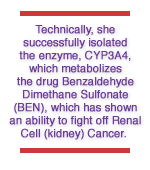 Kicielinski was invited to an event on Capitol Hill April 24-25 in which about 75 students from across the country presented their research in a variety of disciplines to their hometown legislators. Scientific agencies and organizations were also there to gain insight to the next great revelation.
Kicielinski says BEN is under evaluation by the National Cancer Institute. "I think it has potential. Even if this specific drug isn't used, it's an important steppingstone for other drugs in the future.
"You have to look into a lot of dead-ends before you get something that works," says Kicielinski, who will attend medical school at Penn State this fall.
For the last three summers the Baldwin, Pa., native has worked at the Hillman Center in Dr. Egorin's Molecular Therapeutics and Drug Discovery lab. Her research advisor is Carnegie Mellon Chemistry Professor Paul Karol, for whom she has been a supplemental instructor.
"Faculty describe her as an independent, organized and enthusiastic student, who always was well prepared for lab, even working ahead of assignments and with excellent analytical and problem-solving abilities," Karol said. He noted that she's been extremely helpful to first-year students as an orientation counselor and leader, and to underclass students as a mentor in the Science and Humanities Scholars program, and supplemental instructor in chemistry.
Kim has done an amazing amount of work that is of high quality," Egorin said. "She works independently and has a great drive to understand the science and theory behind the experiments that she performs. I am also impressed with the precision of her work and her attention to detail."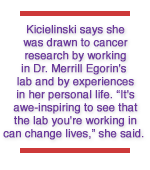 Kicielinski says she was drawn to cancer research by working in Egorin's lab and by experiences in her personal life.
"I was testing the blood of cancer patients that had been given experimental drugs to learn more about the drug and started to feel a connection with these patients. At the same time, it seemed like all my parents' friends were getting cancer. It became a mission," said Kicielinski who plans to specialize in oncology.
"It's awe-inspiring to see that the lab you're working in can change lives," she said.
While working with the blood of cancer patients, Kicielinski studied the effects of the drugs imatnib mesylate and hyrdroxyurea on brain tumors. She found that while neither drug was successful in the treatment of brain tumors, they worked well in combination. She co-authored a paper on her findings that was published in the Journal of Clinical Oncology.
"The work described in that article has the potential to change the standard of care of brain tumors and also has potentially broad indications with regard to drug metabolism," Egorin said.
Kicielinski's work this past summer on BEN was funded by a Carnegie Mellon $3,000 Small Undergraduate Research Grant and the National Cancer Institute.

Bruce Gerson
April 23, 2006