Carnegie Mellon to Unveil Campus Sculpture of Famous Engineer and First Ph.D. Recipient
Statue Will Be Sited in Exterior Alcove Alongside Baker and Porter Halls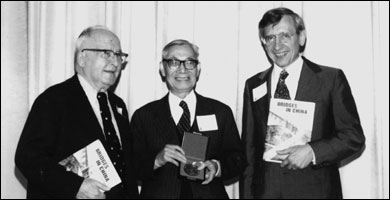 In this 1979 photo, Mao Yisheng (center) poses with then Carnegie Mellon President Richard Cyert (right) and former University President John Warner. Mao is holding an award he received from Carnegie Mellon in recognition of his achievements.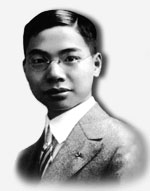 Mao Yisheng during his younger days.

As a young engineer and pioneering bridge builder in China, Mao Yisheng had to do the unthinkable. To stop the approach of troops from Japan in 1937, Mao destroyed the Qiantang River Bridge near Hangzhou. It was a bridge that he had helped to build.

A history of Mao's life written by Engineering Professor Emeritus Steve Fenves, tells us that when World War II was over, Mao supervised the reconstruction of the Qiantang Bridge. He was the chief engineer for many other projects in China, including the first Yangtze River Bridge at Wuhan, and the structural design of the Great Hall of the People in Beijing. He also holds a unique position in Carnegie Mellon University (then Carnegie Institute of Technology) history as its first Ph.D.

Carnegie Mellon will dedicate a statue of this famed Chinese engineer, educator and alumnus on its campus during a ceremony at 4:30 p.m., April 18 at the sculpture site in an exterior alcove alongside Baker and Porter halls. The statue, designed by two famous Chinese sculptors, includes an inscription from China's Premier, Wen Jiabao.

Mao had come to Pittsburgh, a city of bridges, to gain practical experience in bridge construction before completing his thesis on stress analysis of long span bridges. He also worked for a steel fabricator in Wilkinsburg for a brief time, according to Emeritus Engineering Professor Tung Au.
Mao is widely considered to be one of the preeminent engineering minds of the last century. He was on the faculty of five major universities and served as president of four, including Beijing Jiaotong University, where he had earned his undergraduate degree. He helped to transform Chinese engineering education by introducing new subject matter and problem solving techniques into university curricula. He also was a distinguished scholar of the history of science in China.
During his lifetime, Mao was honored as an academician of the Academia Sinica of China and the Academy of Sciences of the People's Republic of China. He was a foreign associate of the National Academy of Engineering in the U.S.
Mao died in 1989, at the age of 93.
The dedication of the statue is not the first time that Carnegie Mellon has honored Mao's accomplishments. In 1979, during a return trip to Carnegie Mellon, Mao received recognition for his lifetime accomplishments from then President Richard Cyert and former president Jake Warner.
Last December, Carnegie Mellon President Jared L. Cohon made a trip to Mao's undergraduate institution, Beijing Jiaotong University, to commemorate Mao as a distinguished alumnus of both universities. Mao graduated from the Tangshan campus of Jiaotong University in 1916 before coming to the U.S. to earn his master's from Cornell University and his Ph.D. from Carnegie Tech.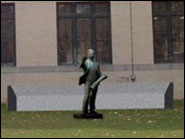 The Mao Yisheng statue will be unveiled in an exterior alcove alongside Baker and Porter halls.

"Carnegie Mellon is immensely proud of the accomplishments of Mao Yisheng, our first Ph.D. graduate. His contributions to major engineering projects and his immense impact as an educator in China make him truly one of the most important engineers of the 20th century. His career illustrates Carnegie Mellon's global reach, and adds further luster to Carnegie Mellon's history," said President Cohon.

"The statue of Mao Yisheng symbolizes Carnegie Mellon's leadership as a global institution for change. Dr. Mao took the skills he acquired at Carnegie Mellon and changed modern bridge building techniques. We are proud to have him as our first Ph.D alumnus in civil engineering," said Pradeep Khosla, dean of Carnegie Mellon's College of Engineering.

"With the gift from Mr. Zhang Yue, his family and other donors, all from China, we mark the beginning of a fruitful cooperation between our university and key Chinese agencies and industries dedicated to our common goal of developing sustainable building practices at the beginning of the 21st century," said Architecture Professor Volker Hartkopf, who has been actively involved in the historical recognition of Mao on this campus.

The Broad Air Conditioning Company based in China donated the statue to Carnegie Mellon. Its installation was supported by several donors: Astorino, China Construction America, Inc., China State Engineering Corporation, Cost Company, Mao Yisheng Science and Technology Education Fund and Sheen Harbour Ltd.


Teresa Thomas
April 13, 2006