In Kazakhstan, Software Engineers Think in Terms of Camels and Sheep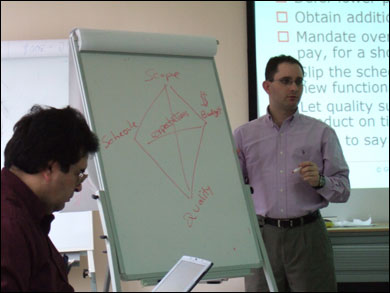 Gil Taran leads a seminar at the KazCommerce Bank in Kazakhstan. Mel Rosso-Llopart is in the foreground.
When Gil Taran and Mel Rosso-Llopart take to the road, presenting seminars on the latest advances in software engineering in Russia and other former Soviet states, they are accustomed to adapting their material to the local culture. But their first trip to Kazakhstan over spring break presented them some new challenges.
"We're nomads," pleaded one of the participants at a seminar. "Please, can you give us an example using sheep and camels?"
Taran and Rosso-Llopart, faculty members in the Master of Software Engineering program of the Institute for Software Engineering International, are still mulling that suggestion. But the fact that they spent 10 days in Kazakhstan, appearing in auditoriums packed with software engineers, speaks volumes regarding the demand in developing countries for software engineering expertise.
Following a pattern established in previous trips to former Soviet states and other places around the world, this visit was arranged by a Carnegie Mellon alum, Kanat Abirov (MSE '04), one of the lead developers in the IT department of KazCommerce Bank, the largest private bank in Kazakhstan. Though Kazakhstan and other nations send students to Carnegie Mellon and other U.S. schools each year to study software engineering, Taran said the seminars help bridge remaining gaps in understanding of the latest software engineering principles.
Abirov said some staff members at first questioned the need for the seminars hosted by the bank. But by the end of the first day, they had changed their minds. "These seminars gave our managers and developers a completely new and different perspective," he said.
The seminars on best practices, processes and techniques in requirements management, planning and tracking were the first to be presented in Kazakhstan by faculty of a top U.S. school. In addition to the bank seminars, the pair also met with the Kazak IT Association, discussed advancing software engineering education with the faculty at the Kazkh British Technical University, and gave presentations to 300 students at Suleyman Demirel University (SDU). SDU is unique in that all the teaching is in English and some of the students are also working full time while attending classes. Taran and Rosso-Llopart offered the university to help provide guidance on existing software engineering courses.
"The most important thing I got from the seminars is the approach of identifying a problem first and then defining alternative ways of solving it," one of the participants told Taran. "It is hard to find an answer to a nontrivial question, but finding an answer to an unasked question is practically impossible... At least for now, I can ask myself the right questions."

Byron Spice
April 5, 2006