In recognition of Professional and Graduate Student Appreciation Week (April 2-8), Carnegie Mellon University presented its annual Graduate Student Teaching and Service awards during an April 5 ceremony in the College of Fine Arts' Kresge Theatre.
This year's Graduate Student Teaching Award winners are Dave Culyba, a master's degree student in the Entertainment Technology Center (ETC), and Adam Wierman, a fourth-year Ph.D. student in the Computer Science Department. Tudor Dumitras, a third-year Ph.D. student in the Electrical and Computer Engineering (ECE) Department, is this year's recipient of the Graduate Student Service Award.
Presenting the awards were Carnegie Mellon Provost and Senior Vice President Mark Kamlet and Vice Provost for Education Indira Nair.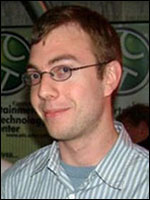 Dave Culyba
Culyba has been the head teaching assistant (TA) for the ETC's "Building Virtual Worlds" project course the past four years. He began his TA duties as an undergraduate and has continued while working toward his master's degree, which he will receive in May.
"I can honestly say that in my 18 years as a faculty member, Dave completely transcends all other teaching assistants (and most faculty)," wrote Professor Randy Pausch, co-founder of the ETC. "While the BVW course and I personally have received a great deal of attention, primarily due to the annual end-of-semester show in McConomy Auditorium, I wish to stress that the credit for the success of 'Building Virtual Worlds' for the last four years goes to Dave Culyba."
Pausch says Culyba has served his students as a "software and hardware guru," "a consulting art director," "a mentor regarding project management," and even "a marriage counselor for groups having disputes." "There is no textbook in BVW, and in many ways, Dave has become the collective wisdom of 'what works and what doesn't' in this unusual medium," Pausch said.
"Dave was always available to bounce ideas off of, which is very important in a course such as BVW. More importantly, he would spend large amounts of time giving feedback and helping you reach your goals," wrote senior Andrew Moore in a supporting letter.
"I truly have not seen such a devotion to students from any other teaching assistant in my time at Carnegie Mellon. All in all, David is one of the largest factors in convincing me that the ETC is the place where I want to continue my education, encouraging me to apply to the Master of Entertainment Technology program, to which I have recently been accepted," Moore wrote.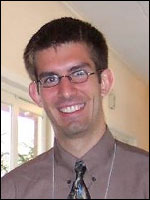 Adam Wierman
In a nominating letter, Associate Professor of Computer Science Mor Harchol-Balter wrote that Wierman "is the best TA I have ever known, voluntarily taking on every responsibility imaginable. Faculty prefer getting Adam as a TA to being given a faculty co-instructor."
Harchol-Balter praised Wierman for his work in a new course she co-taught last semester called "Probability and Computing." "Although graduate students in Computer Science don't teach courses (only TA), Adam was as much a developer, designer and teacher of the class as either of the co-instructors, myself and John Lafferty.
"Adam would come to our weekly teaching meetings full of ideas for what we should teach next," she wrote. "He would light up when discussing any aspect of the class, brimming with suggestions for how to explain hard concepts in intuitive ways, and ideas for what real-world examples we could use."
She also lauded Wierman for developing the most creative homework problems she has ever seen and for being an "incredible speaker" and a "teaching leader."
Students wholeheartedly agree.
"Adam Wierman is the most captivating TA I have had," said Roy Liu.
"Adam is in possession of all the qualities that makes him an exemplary teacher," wrote undergraduate Teh Seng Keat. Keat noted Wierman's ability to make his students grasp very difficult concepts and to intellectually inspire and stimulate his students. He also said Wierman was always supportive, helpful and respectful of the students' diverse backgrounds and different learning levels.
"Adam always plays a major role in helping out students at the most critical times in the courses," said student Zoe Ouyang. "...His seeming innate humility makes him exceedingly approachable and his clarity in communicating ideas and the effectiveness of his explanations makes impossibly complex subjects understandable."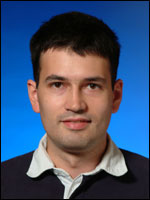 Tudor Dumitras
Dumitras was selected for his support of graduate students not only in ECE, but also at the university, in Pittsburgh and even around the world.
Dumitras is president of the ECE and Information Networking Institute (INI) Graduate Student Organization (EGO) and has been a leader in the group for several years. serving as vice president and social, publicity and sports chair. One of his many accomplishments was to create and direct an EGO video featuring faculty and student comedy routines. Assistant Professor Priya Narasimhan says the movie captured the spirit of Carnegie Mellon and helped bring people in the department closer together.
"So successful was this activity that the department now uses this movie as a recruiting tool for Open House and other events. The department owes him a lot for this," Narasimhan wrote in her nominating letter.
Over the years, Dumitras has also helped international graduate students from other schools and departments with their income tax returns as a participant in the Volunteer Income Tax Assistance program. He's also been a mentor to students as a member of the Pittsburgh Council for International Visitors (PCIV). And he even helped launch an online community called "PCIVfriends."
"His service has had impact way beyond the department, beyond campus, beyond Pittsburgh, and into a global community," Narasimhan said. "He has never hesitated to give of his time when it meant that someone would benefit from it. He is a shining example, not just to students, but also to faculty like myself.
"We are truly fortunate to have an individual of his character, his academic accomplishments and his selfless and untiring service. ...I wish there had been someone like Tudor on campus when I first came to this country to study," Narasimhan said.
Andrea Benvin and Melanie Vrabel
Co-nominated for the Graduate Student Service Award, Ph.D. students Benvin and Vrabel earned honorable mention recognition for their efforts in the Chemistry Department.
"These students have worked on a number of projects together, from outreach in community projects to leading the process for creating a more welcoming graduate student lounge, maintaining the seminar series and supporting the graduate student retreats," said Suzie Laurich-McIntyre, assistant vice provost for graduate education.

Bruce Gerson
April 1, 2006