Engineering, Business Rated Among Best Grad Programs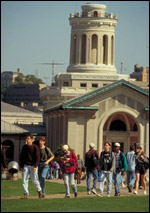 Carnegie Mellon University's graduate programs in engineering and business continue to be ranked among the nation's best, according to U.S. News & World Report magazine. Both programs moved up one spot in the publication's 2007 graduate program rankings.
In the rankings that appear online today and in the magazine next week, Carnegie Institute of Technology (CIT, College of Engineering) was recognized as the eighth best program in the country. Five of CIT's graduate programs placed in the top 10, including Computer Engineering (3rd), Electrical Engineering (7th), Environmental Engineering (7th), Civil Engineering (10th) and Mechanical Engineering (10th).
"The latest U.S. News & World Report rankings reflect the outstanding multidisciplinary, collaborative research and world-class education we deliver both nationally and globally. Our leadership in engineering excellence is also reflected in five of our programs being ranked in the top 10," said Pradeep K. Khosla, dean of Carnegie Mellon's College of Engineering.
The combined top showing for Civil and Environmental Engineering was particularly exciting. While Carnegie Mellon combines Civil and Environmental Engineering into one department, the magazine ranks the disciplines separately. The ranking for Civil Engineering education at Carnegie Mellon went up five points, from 15th to 10th, and Environmental Engineering went up one spot, from 8th to 7th.
In the 2007 rankings of MBA programs, the Tepper School of Business moved up a notch to 16th with Cornell's Johnson School. Tepper's strengths in the specialty areas of Information Systems (2nd), Production and Operations Management (3rd) and Supply Chain and Logistics Management (5th) were recognized as well.
The rankings edition repeats some 2006 ratings, including Carnegie Mellon's number one ranking in Computer Science along with Berkeley, MIT and Stanford. It also repeated highlights from the Computer Science disciplines, including Artificial Intelligence (3rd), Systems (3rd) and Theory (6th).
The university typically performs well in graduate and undergraduate rankings. In 2006, the university was ranked 22nd among national research universities in U.S. News & World Report's ratings of undergraduate programs.
More information about the rankings can be found at www.usnews.com.
Carnegie Mellon maintains a list of its rankings at www.cmu.edu/clips/rankings.html

Teresa Thomas
March 31, 2006