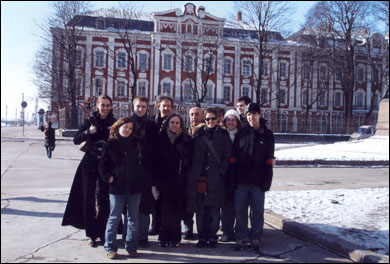 Students and Naum Kats (back row, fourth from left), who teaches "Introduction to Russian Culture and Civilization," pose in front of St. Petersburg University.
Other spring break destinations undoubtedly offered a more hospitable climate. But none could rival the cultural and historic treasures afforded by St. Petersburg, Russia, where undergraduate advisor Naum Kats, a member of the History and Modern Languages departments, led a group of Carnegie Mellon students on a 10-day trip that included a stop in Prague.
Most of the 11 students who traveled with Kats to St. Petersburg had completed his fall freshmen seminar, "Introduction to Russian Culture and Civilization," which explored the development of Russian culture, art and music from the early 1800s through the 20th century.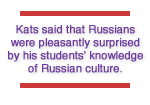 St. Petersburg, founded in 1703 by Czar Peter the Great, served as the Russian capital until the Revolution of 1917. The students' itinerary included tours of The Peter and Paul Fortress; the Hermitage, Russian and Kunstkamera museums; and the Usupov Palace. The students also saw a performance of "Swan Lake" at the Mariinsky Theater and dined in the home of a Russian family.
"They were able to practice their Russian, and Russian students were able to practice English," Kats said.
Kats said that groups of young Americans rarely travel to St. Petersburg, and that Americans and Russians continue to harbor Cold War era stereotypes about each other. Kats said that Russians were pleasantly surprised by his students' knowledge of Russian culture.
"Russians view Americans as lacking a humanities background," Kats said.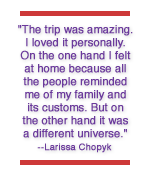 Larissa Chopyk enrolled in Kats' freshmen seminar because much of her family is either Russian or Ukranian. Her great-grandmother was Russian nobility who had to flee the country when the Bolsheviks seized power.
"The trip was amazing. I loved it personally. On the one hand I felt at home because all the people reminded me of my family and its customs. But on the other hand it was a different universe," Chopyk said.
The students ended their trip with a two-day stop in Prague, the capital of the Czech Republic, where they took a guided tour of the city and were free to explore on their own.
"The students were amazing," Kats said.
The College of Humanities and Social Sciences Dean's Office, the Modern Languages and History departments, and the Division of Student Affairs funded the trip.

Jonathan Potts
March 28, 2006