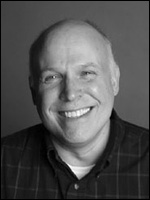 Mark Mentzer has created at least one original drawing each day for more than 16 years.

Design Professor Mark Mentzer, associate head of the School of Design, has been named this year's winner of Carnegie Mellon University's William H. and Frances S. Ryan Award for Meritorious Teaching, the university's most prestigious teaching honor. The Ryan annually recognizes Carnegie Mellon faculty who have demonstrated unusual devotion and effectiveness in teaching.

Mentzer, a faculty member at Carnegie Mellon since the mid-1970s, teaches "Drawing" to all freshmen students and "Color and Communication" to sophomores in the Communications Design program. He is also an active artist who has created at least one original drawing each day for more than 16 years and has catalogued more than 6,000 of his drawings. He has exhibited his drawings and paintings in national shows and has received numerous awards for his work.

"Bar none, Mark Mentzer is the best drawing teacher I have encountered in my 35 years of teaching and he deserves to be recognized for the impact he has made in so many students' careers," said School of Design Head Dan Boyarski in a letter supporting Mentzer's nomination. "Mark is a born teacher and he teaches from the heart. ...His students will tell you so. ...As a teacher of drawing for 30 years, Mark has redefined what drawing means and what drawing instruction entails.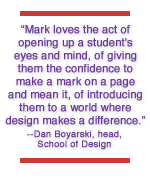 "...Carnegie Mellon can boast of good teachers with impressive results, but Mark Mentzer stands in a small group of truly excellent teachers, those who teach because they love it. Mark loves the act of opening up a student's eyes and mind, of giving them the confidence to make a mark on a page and mean it, of introducing them to a world where design makes a difference," Boyarski wrote.
"Through Mark, students learn the beauty and importance of drawing to their major," wrote Professor of Design and Photography Charlee Brodsky in a supporting letter. "Students have access to an artist-teacher, often in a one-to-one relationship, who teaches his craft, in part, just by doing it so well. ...In his classes he creates an environment where students feel secure to learn and not threatened by what they don't know.
"...He knows how to talk to students and they listen carefully. Mark's students appreciate the respect he gives them and they, in turn, have great respect for him," Brodsky added.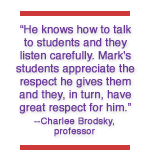 Student Purin Phanichphant says to his knowledge, every single student in the School of Design admires Mentzer.
"Mark is extremely kind, understanding, and caring to all of us. The level of support we receive from him, both inside and outside the classroom is enormous. ...He would never leave the class until everyone who needs his help gets it. I always feel comfortable approaching Mark for his feedback, because I know that he is always genuinely willing to help.
"...We all feel deeply connected to him. Some of us even refer to him as 'dad,'" Phanichphant said.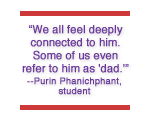 Mentzer joined the School of Design as an instructor in 1975 and rose through the ranks to assistant professor in 1978, associate professor in 1985, associate department head in 1994 and full professor in 1998. He earned his bachelor's degree in painting from Carnegie Mellon in 1973.
"I love to teach. So, I look forward each day to working with my students and colleagues," Mentzer says. "I seriously can't think of many other activities I would rather be doing most days."
Mentzer received the College of Fine Arts' Henry Hornbostel Teaching Award for excellence in undergraduate teaching and advising in 1996.
Award Ceremony April 27
The Ryan Award will be presented at a ceremony beginning at 4:30 p.m., Thursday, April 27 in Rangos Hall, University Center. Winners of college teaching awards will also be recognized.
Professor Michael Pritchard, the Willard Brown Professor of Philosophy at Western Michigan University and co-director of its Center for Ethics in Society, will give the keynote address. His talk, "Teaching Ethics," is open to all members of the university community. Pritchard has written numerous books, including the widely used "Engineering Ethics: Concepts and Cases" and "Ethics in the Science Classroom."
Education Awards Change; Grad Student Winners Named
Beginning this year, the Ryan Award will continue to be awarded annually, however the Doherty and Advising awards will be given biannually, effective spring 2007. In addition, the Graduate Student Teaching and Service awards will be presented in a separate ceremony, beginning this year at 5:30 p.m., Wednesday, April 5 in the Kresge Theatre, College of Fine Arts.
Dave Culyba and Adam Wierman have been named co-winners of this year's Graduate Student Teaching Award, and Tudor Dumitras is the winner of this year's Graduate Student Service Award.
Culyba has been head teaching assistant the last four years for the highly successful "Building Virtual Worlds" course at the Entertainment Technology Center. Much credit for the course's success has been attributed to Culyba.
Wierman, a fourth-year Ph.D. student in the Computer Science Department, is often referred to by students and faculty as "the best TA I've ever had."
Dumitras, a Ph.D. student in electrical and computer engineering, was selected for his breadth of activities in the department supporting graduate students. He was a volunteer with the Pittsburgh Council for International Visitors and a volunteer income tax assistant for many students.
Receiving honorable mention service citations are Andrea Lynn Benvin and Melanie Ann Vrabel, both Ph.D. students in chemistry.

Bruce Gerson
March 24, 2006