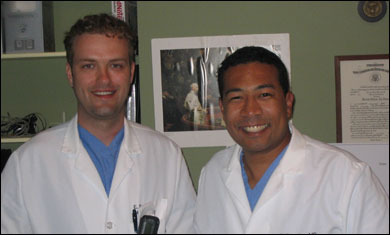 Tepper School graduate Daniel McChesney (MBA'05) (left) and Ernest Braxton (MBA'07) are combining their medical and business expertise.
Tepper School graduate Daniel McChesney (MBA'05) and Ernest Braxton (MBA'07) think they have a pretty good idea for a startup and the Pittsburgh Life Sciences Greenhouse (PLSG) agrees. So much so that it recently invested $100,000 in these two medical entrepreneurs and their company NeuroLife Noninvasive Solutions.
The concept for their startup is to produce a new hand-held, noninvasive medical device that measures brain pressure faster, safer and easier for more than 500,000 patients per year who suffer from brain injuries. The proposed diagnostic tool, called iSCAN, will measure brain pressure non-invasively through the patient's eye benefiting more than 8.5 million American patients at risk of brain damage as a result of elevated brain pressure. Currently brain pressure is measured by boring a hole through the skull and inserting a catheter into the brain.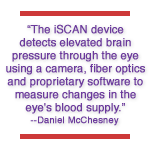 "The iSCAN device detects elevated brain pressure through the eye using a camera, fiber optics and proprietary software to measure changes in the eye's blood supply," McChesney said. Because of the close relationship between the eye and the brain, small changes in the eye's blood supply often correlate with brain pressure.
"Through the use of this noninvasive technology, we reduce the risks of possible infection, brain damage and bleeding associated with invasive procedures," Braxton said.
McChesney and Braxton know what they're talking about as both men graduated from the University of Pittsburgh Medical School. McChesney is also a former researcher at the National Institutes of Health, and he's also worked at multiple medical diagnostic start-up companies. Braxton was an emergency room physician at Osan Air Base in South Korea and is currently a neurosurgical resident at Allegheny General Hospital in Pittsburgh.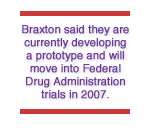 NeuroLife placed second among five finalists last fall in FORTUNE Small Business magazine's Student Showdown, a national business plan competition for B-school students. More than 80 teams from 66 business schools entered the FORTUNE competition. The company received $10,000 for its second-place finish.
McChesney says the innovative tool will also provide early detection for patients suffering from brain disorders caused by stroke, hydrocephalus, meningitis and automobile accidents.
Braxton said they are currently developing a prototype and will move into Federal Drug Administration trials in 2007.
NeuroLife is also pursing funding from the National Institutes of Health, private investors and the U.S. Army, which sees the device as a valuable tool for soldiers who sustain head injuries in the battlefield.
The Pittsburgh Life Sciences Greenhouse is a partnership, founded by Carnegie Mellon, the University of Pittsburgh, UPMC Health System and the state of Pennsylvania. The greenhouse invests in and supports the growth of regional life sciences companies.

Bruce Gerson
March 23, 2006