Poet Explores Race, Identity and Culture in "Wind in a Box"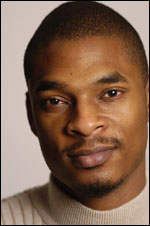 Hayes says his book evokes the transformative nature of persona, which he shapes through language.

Award-winning poet Terrance Hayes has written his most daring and reflective poems to date for his third collection, "Wind in a Box." Drawing on influences that range from Dr. Seuss and Amiri Baraka to David Bowie, the associate professor of creative writing at Carnegie Mellon explores identity, race, culture and the dark side of American history. The collection will be available from Penguin Poets Paperback Original on April 4.

"Here is a distinctively American voice — one of the first of the post-Civil Rights generation — to take on the new complexities of race and the old hardships incumbent in being human," said Mary Karr, author of "The Liar's Club." "Hayes will disturb the comfortable and comfort the disturbed."

Hayes regards "Wind in a Box" as his most cohesive work so far, one that best captures his voice as a writer. He flirts with a variety of styles, including prose poems, poems with struck-through lines, and poems that channel the spirits of some of America's most influential writers, artists and performers. Consider "The Blue Seuss":

Blacks on boat docks
Blacks on auctions
Blacks on wagons
Blacks with masters in the houses
Blacks with bosses in the fields
Blacks with helmets toting rifles
Blacks in Harlem toting banjoes boots and quilts

Hayes says this book evokes the transformative nature of persona, which he shapes through language—the "wind in a box," which is the title of several poems in the collection, including the one that opens the book:

This ink. This name. This blood. This blunder.
This blood. This loss. This lonesome wind. This canyon.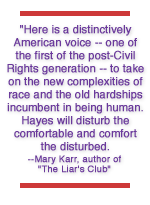 "The book's title plays on several ideas of freedom and structure," says Hayes. "The wind is a metaphor for language and the breath that carries language. The box represents how language is shaped, how it's crafted and contained."
Hayes is the author of "Hip Logic" and "Muscular Music." He is a past winner of a Whiting Writers Award, the Kate Tufts Discovery Award, a National Poetry Series Award, a Pushcart Prize, a Best American Poetry Selection and a National Endowment for the Arts Fellowship.

Jonathan Potts
March 21, 2006