Carnegie Mellon Student Melissa Gilliam Ezarik Wins Henry Luce Foundation Scholarship

Melissa Gilliam Ezarik is one of 15 students in the nation to participate in the Luce Scholars Program.

Carnegie Mellon University graduate student Melissa Gilliam Ezarik was recently named one of 15 students in the nation to participate in the prestigious Luce Scholars Program, an initiative sponsored by the Henry Luce Foundation that enables students to increase their knowledge and awareness of Asia by living and working in an Asian country of their choice.

Ezarik, daughter of Stan and Patti Gilliam of Farmington, Mo., is a second-year student in the H. John Heinz III School of Public Policy and Management, where she is pursuing a master's degree in arts management. The Luce Scholars program will allow her to work for a Ministry of Culture or Council of Cultural Affairs in an Asian county, while simultaneously learning its language and customs. Ezarik says the experience will help her conduct a cross-national survey of arts and cultural policies in the United States and Asian countries, and lead her to her career goal of influencing arts and cultural policy in America.

Cathy Silvern, associate director for academic programs at Carnegie Mellon's Institute for the Management for Creative Enterprises, praised Ezarik's work.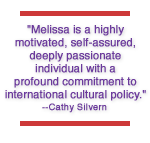 "Melissa is a highly motivated, self-assured, deeply passionate individual with a profound commitment to international cultural policy," Silvern said. "She is dedicated to the idea that arts and culture are unique and powerful diplomatic tools that are underutilized by the United States, and she is keenly interested in understanding how cultural policy is implemented by other countries around the world to encourage thinking about this concept in America."
Ezarik graduated from Northwestern State University with bachelor's degrees in music percussion performance and English. She is a member of the New Moon Orchestra (Pittsburgh's Chinese orchestra), and has been active in Americans for the Arts and cultural policy initiatives.
The Luce Scholars Program, established by the Luce Foundation in 1974, provides stipends and internships for 15 young Americans to live and work in Asia each year.

Vijay Jesrani
March 21, 2006