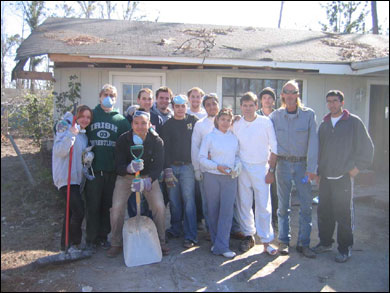 Nine students participated in the trip to the Gulf Coast in January. They're pictured here with a few of the homeowners they met. From left to right: Violet Zharov, Matt Adams, Ray Wong, Brad Miller, Cale Magruder, Daniel Dvinov, Joseph Phillips, Arun Ghosh, JR's wife (homeowner), JR (homeowner), Joey (homeowner), Scott (homeowner), Nuveen Marwah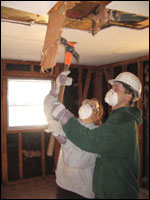 Sophomore business majors Violet Zharov and Matt Adams take down a ceiling during their Alternative Break trip to Bay St. Louis, Miss.

Most students get suntan lotion rather than shots for hepatitis and tetanus before they leave for spring break. But the students who participate in Carnegie Mellon's Alternative Break organization aren't most students. They're not afraid to trade in a week of well-earned respite from the rigors of academia for a chance to change someone's life forever through elbow grease, sweat and determination. Last winter, they helped victims of Hurricane Katrina. This week, 14 students are changing the lives of migrant farmers in the Tijuana/San Diego border region.

Alternative Break began in earnest last fall as the brainchild of Nuveen Marwah, a fifth-year scholar and business administration major in the Tepper School of Business. All participants in Carnegie Mellon's Fifth-Year Scholar program have to complete a special project or course of study. Marwah decided to focus his efforts on creating Alternative Break.

"The idea came to me after three years of going on Spring Break Habitat for Humanity trips," Marwah said. "I realized then that it's an incredible experience, a great opportunity to do some service work for others. I noticed that not all the prospective applicants were able to attend the trips because of space constraints. So I began looking into the possibility of creating this new organization that focused entirely on developing alternative break trips. Not only during spring break, but during winter break."

After visits to Stanford and the University of California, Berkeley, to learn more about their alternative break programs, Marwah returned to Pittsburgh to publicize and build interest in the organization. Soon Alternative Break had a full executive board and was busy planning its first trip, scheduled for the Tijuana/San Diego region over winter break.

But Hurricane Katrina changed those plans. "The circumstances led us to the Gulf Coast," Marwah said. After Katrina hit, the group began looking for an organization in the Gulf region with which to partner. "We connected with some organizations on the Gulf Coast and called nonprofits and faith-based organizations and eventually connected with the Main Street United Methodist Church in Bay St. Louis, Miss. They had a very organized structure."

The church accepted applications from residents hit hard by the storm, assessed their homes and eventually sent volunteers to those homes to help gut or "muck" them. The church not only organized the clean up efforts, but it also gave visiting volunteer groups from all over the country a place to stay while they worked in Bay St. Louis. The church provided a place to sleep, shower, cook meals and socialize during off-hours.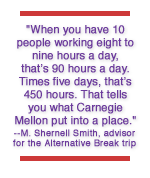 The winter Alternative Break trip was open to all Carnegie Mellon students. Financial support from the Office of the Dean of Student Affairs, the Vice Provost for Education, Student Senate and the Tepper School of Business helped drive the cost of the trip down to $200 per student. So on Jan. 3, a group of nine students and one staff advisor flew from Pittsburgh to Mississippi for their week of service.
"I was amazed by the extent of the destruction," Marwah said. "As you moved closer to the coast, some houses were just a roof on the ground. When you got even closer [to the coast], there were only stilts left and the houses had been washed away completely."
Another student said that everyone else in the world thinks the Gulf Coast is back to normal again because it's not on the news. But the Carnegie Mellon group found that nothing is back to normal. Not even close.
The students spent their week in Bay St. Louis much as participants in a Habitat for Humanity program would, but they demolished homes instead of building them. Side-by-side with the homeowners, the students went into houses that hadn't been touched since the hurricane, ripping out insulation and ceilings, removing furniture—anything they had to do to rid the structure of black mold. More volunteers in the future will bleach and pressure-wash the houses. Eventually, more volunteers will hang drywall and rebuild the houses.
In all, the students helped four or five families take a step toward regaining the homes Katrina took from them months ago.
"When you have 10 people working eight to nine hours a day, that's 90 hours a day. Times five days, that's 450 hours. That tells you what Carnegie Mellon put into a place," said M. Shernell Smith, coordinator of Student Development and advisor for the Alternative Break trip.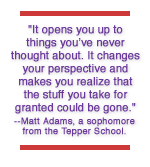 The students did more than gut houses in Bay St. Louis, though. They also became part of the lives of the hurricane victims they met and helped during their week of service.
Marwah recalls a man named J.R. who lost his home three times in his native Honduras before relocating to Bay St. Louis, where Katrina took his home from him again. "He's not sure at this point if he's even going to be able to rebuild," Marwah said. "The insurance company offered him $500 for the damages because they said it was caused by the flood waters coming in and not by the hurricane itself."
Another young man they met recounted sitting in his attic with his grandmother, watching the 25-foot storm surge barrel toward their home, and wondering what would happen if the water rose into the attic. "I still dream about water," he said.
These kinds of stories—coupled with the work the students did to help those in need—created a life-changing experience for everyone on the trip.
"It changes you. It humbles you. A tragedy like that unites all of humanity," said Violet Zharov, a sophomore in the Tepper School of Business.
"It opens you up to things you've never thought about," said Matt Adams, another sophomore from the Tepper School. "It changes your perspective and makes you realize that the stuff you take for granted could be gone."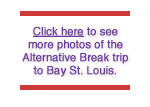 Senior history major Joseph Phillips said the trip allowed him to "see how much they [hurricane victims] have to endure. It reinforces how important service and charity work is to society."
Smith says the students' interaction with the Hurricane Katrina victims and the personal growth they experienced in Bay St. Louis are exactly why Carnegie Mellon encourages service learning.
"When I first asked students what they expected to see on the trip, they were like, 'Whatever, we're just going to help.' That's not how we craft the experience with service that we have on campus," Smith said. "We want them to really break down the wall we sometimes create when we're giving to others and to understand that you can receive just as much in the giving as the individual you're giving to. You've taken away as much as you've put into it."
Alternative Break made telling the stories of the Bay St. Louis hurricane victims their mission when they returned to campus for the spring semester. While in Mississippi, they videotaped interviews with all the homeowners they helped. They compiled those interviews with student testimonials in a documentary available at http://www.andrew.cmu.edu/user/altbreak/trips.html.
This week in Tijuana/San Diego, students participating in Alternative Break will volunteer at a clinic near Tijuana with the Flying Samaritans, a group of medical professionals dedicated to providing healthcare for the poor in California/Mexico border region. They'll also contribute to renovation efforts at a San Diego church and participate in ongoing English as Second Language efforts in the border region.
These students may be sacrificing their spring break, but if this trip is anything like the Alternative Break to the Gulf Coast, they'll return to Pittsburgh with much more than a suntan.

Susan Cribbs
March 14, 2006