Carnegie Mellon's School of Drama Streams Live Broadcast of "Nathan the Wise" to Qatar Audience
Broadcast To Be Followed by Moderated Talkback Session Between Qatar, Pittsburgh Attendees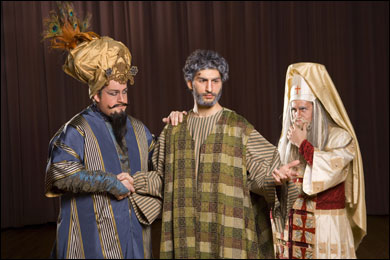 Andrew Kober, Raffi Barsoumian and Ryan Bechard star in the School of Drama's latest production, "Nathan the Wise." The performance will be broadcast live via streaming video to the Qatar campus on March 11.
The Carnegie Mellon University School of Drama will broadcast a live performance of its production of "Nathan the Wise" to an audience thousands of miles away in Qatar at 11 a.m., Pittsburgh time; 8 p.m., Qatar time, on Saturday, March 11. A moderated live talkback discussion between audience members in Pittsburgh and Qatar will take place immediately following the performance. Tickets for the live broadcast and the moderated session can be reserved by calling 412-268-2407.
The performance, free and open to the public in Pittsburgh, marks a number of firsts for the campuses and for the arts in Pittsburgh. The live transmission will use the latest in digital video technology. The Qatari audience will be members of Carnegie Mellon's campus in Doha, along with guest students and faculty from the University of Qatar.
"Carnegie Mellon has already established a strong presence in Qatar with our business and technology programs," said Indira Nair, vice provost for education. "At the request of students in Qatar, we are using this opportunity to introduce the educational community of Doha to our excellent arts programs as well."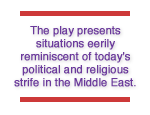 Edward Kemp's new adaptation of G.E. Lessing's 18th-century masterpiece "Nathan the Wise" is a compelling and urgent argument reminding audiences of the shared humanity of Muslims, Christians and Jews and of the power of reconciliation and communion. In the play, Nathan averts a terrible tragedy when he realizes that human fellowship is more important than blind adherence to an unknowable "truth." Critics have noted that the message of the play remains relevant to the modern world's struggles to find tolerance between and within nations.
"The impulse of the play is to alert us, in the face of increasing religious and political polarization both foreign and domestic, that we are more than our cultural and ethnic labels," said Elizabeth Bradley, head of the School of Drama. Bradley, a former chair of the International Society for Performing Arts and artistic director of the 2004 Pittsburgh International Festival of Firsts, has been a strong advocate of pluralistic exchange in the arts. "'Nathan the Wise' argues that the only way forward lies in transcending notions of separation and embracing our common humanity, both at home and abroad," Bradley said.
Benjamin Reilly, a history professor at Carnegie Mellon in Qatar, said the play advocates "religious toleration and skepticism of dogmatic religion, and is an early example of the idea of secularism in European thought—an issue which is of particular interest to me as a teacher in the Middle East, where secularism remains a hotly contested issue."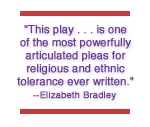 "I don't know that a project like this, a live broadcast of a play performance, has ever been attempted by a drama school," said Michael Chemers, a dramatic literature professor at Carnegie Mellon who is acting as a liaison between the two campuses. "It's a common misconception that dramatic art doesn't exist in Islamic countries. Qatar, for example, has a thriving and popular theatre community, so we anticipate a sophisticated and interested audience for our transmission," he said.
The School of Drama is one of the nation's most distinguished degree-granting professional theatre conservatories. It is one of five schools within Carnegie Mellon's College of Fine Arts, a community of nationally and internationally recognized artists and professionals organized into Architecture, Art, Design, Drama and Music, and their associated centers and programs. The 2005-06 academic year represents the college's 100th anniversary.
For additional information about the live broadcast, contact the School of Drama box office at 412-268-2407 from noon to 5 p.m., Monday-Friday. For more information on the School of Drama or the College of Fine Arts, visit http://www.cmu.edu/cfa or contact Eric Sloss at 412-268-5765 or ecs@andrew.cmu.edu.

Eric Sloss
March 6, 2006