Carnegie Mellon President Jared L. Cohon Receives Engineering Society's Metcalf Award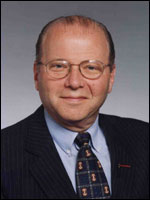 President Jared L. Cohon

Carnegie Mellon University President Jared L. Cohon received the Engineering Society of Western Pennsylvania's (ESWP) William Metcalf Award for outstanding contributions to the field of engineering Feb. 22 at the Sheraton Station Square.

The Metcalf Award, named after the society's first president, is given to an exceptional engineer whose expertise relates to those fields normally associated with Western Pennsylvania. Cohon joins more than 40 past Metcalf Award winners, a group that includes engineering entrepreneurs, astronauts and corporate leaders.

"Dr. Cohon was selected to receive the ESWP's Metcalf Award for lifetime achievement through his numerous outstanding contributions to education, the environment and to our region," said Alex G. Sciulli, professional engineer of Mellon Financial Corp. and second vice president of the ESWP. "Cohon personifies what we all strive for, the quintessential engineering professional who is dedicated to his work and service to the community."

An author, coauthor, editor of one book and more than 80 professional publications, Cohon is an authority on environmental and water resource systems analysis, an interdisciplinary field combining engineering, economics and applied mathematics. He has worked on water resource problems in the United States, South America and Asia, and on energy facility siting, including nuclear waste shipping and storage.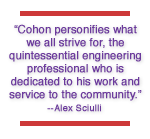 In addition to his academic experience, Cohon served in the late 1970s as legislative assistant for energy and environment to the late Senator Daniel Patrick Moynihan (D-NY). President Bill Clinton appointed him to the Nuclear Waste Technical Review Board in 1995 and appointed him as chairman in 1997. He completed his term in 2002. President George W. Bush appointed Cohon to serve on the Homeland Security Advisory Council in 2002. He also was appointed chairman of the Council's Senior Advisory Committee on Academia and Policy Research.
At Carnegie Mellon, Cohon has promoted and nurtured the university's long tradition of innovation and growth. His priorities have included creating new interdisciplinary initiatives in information technology, biotechnology, the environment and in the fine arts and humanities; enhancing diversity across campus; improving undergraduate education; establishing new international academic beachheads and promoting the economic development of Southwest Pennsylvania.
"The ESWP has a long, illustrious history of supporting engineering innovation and making contributions not only to the economic health of our region, but to the profession of engineering itself," said Cohon, president of Carnegie Mellon since 1997. "I am deeply honored to receive the 2006 Metcalf Award from the engineering society, and to join such a distinguished company of past recipients."
Cohon started his teaching and research career in 1973 at Johns Hopkins University, where he was a faculty member for 19 years in the Department of Geography and Environmental Engineering. He also served as assistant and associate dean of engineering, and vice provost for research at Johns Hopkins before joining Yale in 1992, where he served as dean of the School of Forestry and Environmental Studies. He earned a bachelor's degree in civil engineering from the University of Pennsylvania in 1969 and a Ph.D. in civil engineering from the Massachusetts Institute of Technology in 1973.

Teresa Thomas
February 20, 2006