Carnegie Mellon Celebrates Success of Spin-Off Akustica Inc.
President Cohon Praises John Rangos Sr. for his Steadfast Support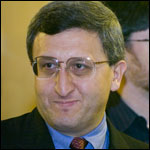 Electrical and Computer Engineering Professor Ken Gabriel founded Akustica in 2001. Located in Pittsburgh's South Side Works, Akustica builds microphone chips for laptops, cell phones and other digital media.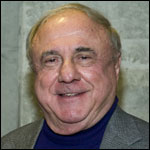 University Trustee John Rangos Sr. was recognized by President Cohon for his commitment to tech transfer and for his efforts to help create new companies in the region.

Carnegie Mellon University President Jared L. Cohon recognized the success of Akustica, Inc., as well as the university's overall contributions to the economic development of the Pittsburgh region at a reception during a recent meeting on campus of Akustica's Board of Directors.

Founded in 2001 by Carnegie Mellon Electrical and Computer Engineering Professor Ken Gabriel, Akustica, located in Pittsburgh's South Side Works, builds microphone chips for laptops, cell phones and other digital media using microelectromechanical technology. Gabriel said the "smart chips" improve voice quality wherever microphones are used.

The company, which has grown to more than 40 employees, recently shipped several of its test products to the marketplace and is awaiting its first orders. "We're hoping 2006 will be our year," said co-founder Jim Rock. "We hope you can soon go to Best Buy to purchase products that have Akustica inside."

Gabriel said Akustica's success was a team effort. He cited Carnegie Mellon's tech transfer office, scientists in the university labs, its board of directors and its investors, including Carnegie Mellon Trustee John Rangos Sr.

President Cohon recognized Rangos' commitment to tech transfer and his efforts to help create new companies to reshape the region. "John has been steadfast in his support of an aggressive plan for innovation and in his support in fostering a creative environment. On behalf of the entire Carnegie Mellon family and this city, I congratulate all that you have done."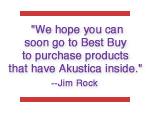 Rangos, whose sons John Jr. and Alex sit on the Akustica board, deflected praise back to Carnegie Mellon and President Cohon. Rangos said he was proud of Carnegie Mellon for its academic prowess and for its strength in fostering economic development in the region. He called President Cohon "a remarkable man and a great strategist who gets the best from his people."
In his remarks, President Cohon also noted the university's local ties with international information leaders, such as Apple, Google, Intel and Seagate.
Apple Pittsburgh and Intel Research Pittsburgh have offices in Carnegie Mellon's Collaborative Innovation Center and are working closely with Carnegie Mellon faculty and students. Intel Research Pittsburgh is under the direction of Todd Mowry, associate professor of computer science at Carnegie Mellon.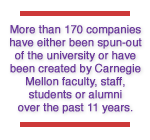 Google recently named Carnegie Mellon Computer Science Professor Andrew Moore to head its new engineering office in Pittsburgh, which will open this year. Mark Kryder, a professor of electrical and computer engineering at Carnegie Mellon, is vice president for research and development for Seagate, the global leader in the production of hard disc drives. Kryder agreed to lead Seagate's Research and Development Center only if it was located in Pittsburgh.
According to Bob Wooldridge, director of Carnegie Mellon's Center for Technology Transfer and Enterprise Creation, more than 170 companies have either been spun-out of the university or have been created by Carnegie Mellon faculty, staff, students or alumni over the past 11 years. There were eight university spin-offs in Fiscal Year 2005 and six have been spun-out thus far in Fiscal Year 2006.
For more on Carnegie Mellon's Center for Technology Transfer, visit http://www.carnegiemellonctt.com/

Bruce Gerson
February 7, 2006