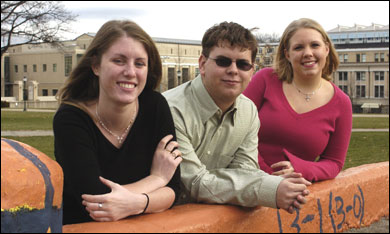 Carnegie Mellon engineering students Alexandra Gutschick (left), Kevin Anderson and Daron Colflesh will present a report to international judges in Paris outlining ways L'Oréal can streamline production and meet manufacturing deadlines. If they win, they could receive internships with the cosmetics giant.
Three Carnegie Mellon University students will trade Pittsburgh for Paris Jan. 25-27 to battle engineering peers from six different countries for internships at international cosmetic giant L'Oréal. Kevin Anderson, Daron Colflesh and Alexandra Gutschick advanced to the L'Oréal Ingenius International Competition by defeating student teams from The Georgia Institute of Technology earlier this month in New York City.
"We won by presenting the best business supply chain plan designed to help L'Oréal boost production of products like lipstick and shampoo," said Colflesh, a 20-year-old junior from Philadelphia majoring in chemical engineering. "We also received enough cosmetics to fill a football field."
The Carnegie Mellon team will present international judges with a 24-page report outlining methods for streamlining production and meeting manufacturing deadlines.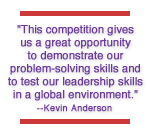 "This competition gives us a great opportunity to demonstrate our problem-solving skills and to test our leadership skills in a global environment," said Kevin Anderson, 19, a chemical engineering sophomore from Baltimore.
More than 15 student teams, vying for competition victory, come from Brazil, Germany, France, Mexico, and China. All teams are assigned the same supply chain project and case study.
"We had great success in the national contest, so we have a good base to work from as we enter the Paris competition," said Alexandra Gutschick, 20, a junior in mechanical engineering. "It's been fun and exciting."
In addition to the competition, team participants will tour Paris, visit L'Oréal production plants and participate in several cultural activities.
L'Oréal officials said the competition is designed to recruit the best and brightest engineers worldwide. More than 2,000 engineers work for L'Oréal, which operates 42 factories worldwide and employs more than 50,000 workers in 130 countries.

Chriss Swaney
January 23, 2006