Carnegie Mellon Among "Most Connected Campuses"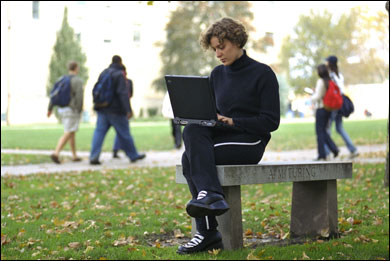 Carnegie Mellon is among the 25 "Most Connected Campuses" according to the latest Princeton Review survey of colleges and universities offering the most cutting edge technology. The Top 25 is available on www.forbes.com/connected.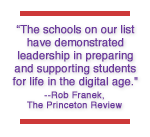 To identify the schools on the list, The Princeton Review collected responses to a survey on campus technology from colleges in its best-selling college guidebook, "The Best 361 Colleges." Criteria included the breadth of the computer science curriculum; the sophistication of campus technology, including streaming media of classes and extracurricular offerings; availability of school-owned digital cameras and equipment for student use; wireless Internet access on campus; and support for handheld computing.
"The schools on our list have demonstrated leadership in preparing and supporting students for life in the digital age. Students who understand the value of technology to both their career prospects and overall quality of life will want to pay special attention to the schools on our list," commented Rob Franek, Vice President and Publisher, The Princeton Review.
"All of the 25 campuses on this elite list are all impressively well-connected, and they are all using technology in innovative, thought-provoking ways," says Michael Noer, Executive Editor, News, at Forbes.com. "Since the top schools all excel, we decided not to rank them this year."
25 Most Connected Campuses—2006
(In Alphabetical Order)
Bryant University
Carnegie Mellon University
Clarkson University
Cornell University
Drexel University
Duquesne University
Marist College
Massachusetts Institute of Technology
New Jersey Institute of Technology
New York University
North Carolina State University
Penn State University Park
Rensselaer Polytechnic Institute
Rochester Institute of Technology
Sonoma State University
Southern Methodist University
Stevens Institute of Technology
Syracuse University
Temple University
University of Colorado, Boulder
University of Missouri-Rolla
University of Pennsylvania
University of Wisconsin-Madison
Villanova University
Worcester Polytechnic Institute

January 20, 2006