Move over Heinz School Australia. Here comes the Entertainment Technology Center (ETC).
Fresh off the heels of an agreement between Carnegie Mellon and the Australian government to establish a branch of Carnegie Mellon's H. John Heinz III School of Public Policy and Management in Adelaide, Australia, next year, comes ETC Australia.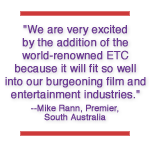 On Monday, Dec. 19, ETC Australia was officially approved by the South Australian government paving the way for an extension of Carnegie Mellon's Entertainment Technology Center next year in Adelaide, where the Master of Entertainment Technology (MET) will be offered. Entertainment technology is a rapidly evolving and high-growth sector and includes gaming, special effects and computer animation.
"We are very excited by the addition of the world-renowned ETC because it will fit so well into our burgeoning film and entertainment industries," said South Australian Premier Mike Rann. "Companies like Rising Sun, Midway Games (formerly Ratbag), Kukan, Kojo and m.Net will be among the many businesses and organizations expected to benefit from the ETC's presence in Adelaide," said Rann, who visited the ETC during his trip to Carnegie Mellon this past May.
The Entertainment Technology Center at Carnegie Mellon offers an interdisciplinary master's degree program with the College of Fine Arts (CFA) and School of Computer Science (SCS). The program focuses on honing the students' existing skills and teaching them to work effectively with other professional groups. Carnegie Mellon is the only university to offer the MET degree.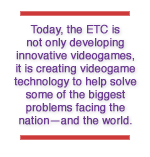 Today, the ETC is not only developing innovative videogames, it is creating videogame technology to help solve some of the biggest problems facing the nation—and the world. There's PeaceMaker, a videogame simulation based on the Israeli-Palestinian conflict that's designed to teach young people to resolve conflicts peacefully. And there's The HazMat Training Simulator, which is being used by the New York City Fire Department to supplement its hands-on HazMat training program.
Carnegie Mellon's Heinz School Australia will offer the Master of Science in Information Technology and Master of Science in Public Policy and Management degrees from its new home in the historic Torrens Building, Victoria Square, Adelaide, beginning in May 2006.
"Our objective is to have a significant impact on societies and economies in the Asia-Pacific region by training the next generation of leaders in public policy and information technology," said Carnegie Mellon Provost and Senior Vice President Mark Kamlet. "South Australia is an exceptional platform for us to pursue that objective because of the vision of the state's premier and the leadership role Australia is playing in the region.
"Reaching this milestone agreement has only been possible because of the shared vision and commitment demonstrated by Premier Rann and the South Australian and Australian governments," Kamlet said.
For more information on ETC Australia, visit http://www.etc.cmu.edu/
For more information on Heinz School Australia, visit http://www.heinz.cmu.edu/australia

Bruce Gerson
December 21, 2005