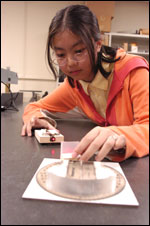 An-chi of Colfax Elementary in Squirrel Hill works on finding the reflective index of plastic using Snell's Law.

About 35 inner city 7th and 8th graders are going far beyond the traditional middle school science curriculum each Tuesday afternoon in a Doherty Hall lab at Carnegie Mellon University. With help from Carnegie Mellon student mentors, the budding little scientists are learning scientific methods and physics concepts as well as interpersonal skills and patience. And they're building self-confidence every step of the way.

In Carnegie Mellon's Physics Concepts Outreach Program students from Milliones Technology Academy in the Hill District, Reizenstein Middle School in East Liberty and Colfax Elementary in Squirrel Hill, spend about 90 minutes working with their mentors on physics projects and experiments that they will present at the Pennsylvania Junior Academy of Science Fair in February.

The program, which is funded by the Grable Foundation and supported by Carnegie Mellon's Physics Department, gives the middle schoolers an opportunity to learn science by doing fun, hands-on science experiments.

"The way to learn science is to do it hands-on," says Physics Professor Leonard Kisslinger, who directs the program along with professors Thomas Ferguson and Gregg Franklin with lab assistance from Barry Luokkala and Michelle Hicks. Kisslinger said the middle school students also benefit by interacting with their mentors and by learning how to present their projects in the science fair. "It's a remarkable experience for them," he says.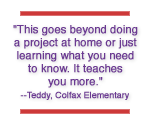 Harold Goldwasser, a 7th grade science teacher at Reizenstein agrees. "They're learning concepts that other students at their age aren't as familiar with and they're doing experiments, everything that a scientist does," he said.
Doug Wolfe, a 7th grade math and science teacher at Colfax, says his students are learning research skills, scientific method and how to use lab equipment. "They're also learning how to critique their own work and also learning patience. Research takes time, especially when you need larger data sets to find verifiable results."
"I'm impressed with the learning that goes on here. The students are eager to get here," said Cindy Bostig, who brings the Milliones students to Carnegie Mellon. Bostig is a senior coordinator for the Communities in Schools program, a nationwide stay-in-school initiative.
The students are enthusiastic about the program as well.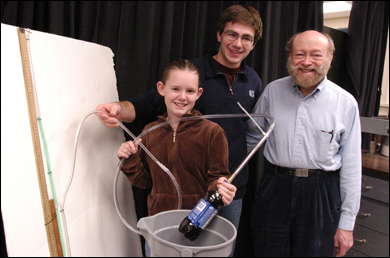 Using a bucket of hot water and a bottle of soda, Carley has found that pressure is a function of temperature for carbonated liquids. With Carley is her mentor Sean Conroy, a junior physics major, and Professor Leonard Kisslinger, director of the Physics Concepts Outreach Program.
Adrienne, a 7th grader at Reizenstein, is working with Chris Manganello, a sophomore materials science and engineering major at Carnegie Mellon, to determine the affect of heat on viscosity. She fills two graduated cylinders with oil and then heats one, while leaving the other at room temperature. By dropping a marble in each cylinder she sees that heat causes the marble to drop faster to the bottom.
Trala, from Milliones, is making a battery from potatoes and fruits. She says fruits produce enough electricity to power a little watch. Her mentor Mythri Papolu, a Carnegie Mellon sophomore majoring in electrical and computer engineering, is helping Trala learn about parallel and series circuits.
"It's easier to learn by doing fun, hands-on projects," Trala says.
The title of Linwood's project is "Index of Refraction in Dense Objects." He's determining how fast light travels in crown glass. His Colfax classmate, Teddy, is running the same project, but with liquids and oils.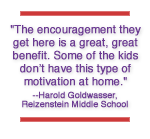 "This goes beyond doing a project at home or just learning what you need to know. It teaches you more," Teddy says.
Carley, also of Colfax, says, "I get to do experiments here that I couldn't do at school. It's cool."
Carley is investigating how heat affects pressure. By placing a bottle of soda in a bucket of hot water, Carley sees that the pressure increases. "Pressure is a function of temperature for carbonated liquids," says her mentor Sean Conroy, a junior physics major.
While Goldwasser, Wolfe and Bostig praise the academic benefits of the program, they believe the social aspect of the program is equally important.
"A real benefit is the mentoring system. Someone is taking them under their wing and caring about them. The encouragement they get here is a great, great benefit. Some of the kids don't have this type of motivation at home," Goldwasser says.
"There's a lot of Q&A going on between the students and their mentors beyond the research projects," Wolfe says.

Larry from Milliones Technology Academy and his mentor Hayley Finley, a sophomore physics major, work on "Inducing Fluorescence in Salt Crystals."
And what's the benefit for the Carnegie Mellon student mentors?
"We have fun. I like helping the kids. It's rewarding and satisfying to see the kids learn and understand," Manganello says.
As time begins to run out on another Tuesday session, Kisslinger gives each middle school student a granola bar to enjoy. As they rip open the paper wrapper and gobble the treat down in seconds, they know that the real treat lasts 90 minutes each Tuesday afternoon.

Bruce Gerson
December 11, 2005