Lewis and LeBude Garner ESPN the Magazine Academic All-America Football Honors
A pair of Carnegie Mellon football players, junior defensive back Aaron Lewis and senior offensive guard Bryan LeBude, have earned First Team ESPN the Magazine Academic All-America honors from the College Sports Information Directors of America (CoSIDA).
CoSIDA recognizes outstanding academic and athletic accomplishments by honoring deserving athletes with All-Academic recognition. To be eligible, a student-athlete must be a varsity starter or key reserve, maintain a cumulative grade point average of 3.20 on a scale of 4.00, and have reached sophomore athletic and academic standing at his/her institution.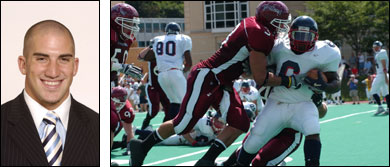 Junior defensive back Aaron Lewis (#3) led the UAA with 115 tackles in 2005.
Lewis, a business administration major with a 3.95 grade-point average, earned First Team All-University Athletic Association (UAA) honors for the third straight year with a league-leading 115 (61 solos) tackles. He also ranked second in the UAA with six interceptions. Lewis recorded double-digit tackles six times, including a career-high 22 against Thiel College in the season finale.
Lewis, 6-0, 210, was also named UAA Defensive Athlete of the Week four times during the 2005 season and ECAC Defensive Player of the Week twice. Lewis hails from Englewood, Ohio, and is a graduate of Northmont High School.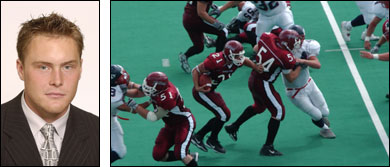 Senior offensive guard Bryan LeBude (#54) helped lead the Tartans to a league-leading 219.8 yards rushing per game.
LeBude, a biological sciences major with a 3.75 GPA, started every game at guard and helped the Tartans average a UAA-leading 219.8 rushing yards per game. He led an offensive line that gave up only 13 sacks in 10 games, which also ranked first in the UAA. The Tartans ranked second in the league in scoring offense and total yards per contest.
LeBude is a native of Mt. Laurel, N.J., and a graduate of Lenape High School.
Carnegie Mellon finished the 2005 campaign with a 5-5 overall record and a third-place standing in the UAA. It was the 31st consecutive non-losing season for the Tartans.

Mark Fisher
December 5, 2005