Carnegie Mellon University Provost and Senior Vice President Mark Kamlet have signed an agreement with South Australian Premier Mike Rann to establish a branch of Carnegie Mellon University's H. John Heinz III School of Public Policy and Management in Adelaide, Australia, next year.
Joining Kamlet and Rann was the dean of the Heinz School, Professor Mark Wessel. The signing follows approval of the agreement by Carnegie Mellon President Jared L. Cohon in Pittsburgh last week.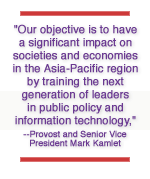 Beginning in May 2006, Carnegie Mellon's Heinz School Australia will offer the Master of Science in Information Technology and Master of Science in Public Policy and Management degrees from its new home in the historic Torrens Building, Victoria Square, Adelaide.
"Our objective is to have a significant impact on societies and economies in the Asia-Pacific region by training the next generation of leaders in public policy and information technology," Kamlet said. "South Australia is an exceptional platform for us to pursue that objective because of the vision of the state's premier and the leadership role Australia is playing in the region.
"Reaching this milestone agreement has only been possible because of the shared vision and commitment demonstrated by Premier Rann and the South Australian and Australian governments," he said.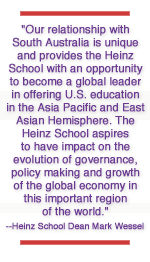 "Our relationship with South Australia is unique and provides the Heinz School with an opportunity to become a global leader in offering U.S. education in the Asia Pacific and East Asian Hemisphere. The Heinz School aspires to have impact on the evolution of governance, policy making and growth of the global economy in this important region of the world," Wessel added.
A series of agreements relating to the opening of the Heinz School branch also were signed, including a tri partite agreement with the Chinese Ministry of Personnel and South Australia, whereby the two governments will provide shared scholarships to selected future leaders from the Chinese civil service to undertake the Master of Science in Public Policy and Management at Carnegie Mellon, Adelaide. Up to 20 scholarships will be offered, commencing in 2006.
Carnegie Mellon is also actively seeking to develop collaborative relationships with South Australia's universities, including Flinders University. To that end, Kamlet also signed an agreement that will facilitate joint research, explore collaborative public policy and management teaching, share international networks and allow the universities to support each other administratively.
When the Heinz School degree programs begin this spring, they will be supported by at least five full-time faculty members recruited from Australia and the U.S. In four years, full-time enrollment is expected to grow to about 150 to 200 students.
Rann and Kamlet said the Australian government would also be working with the university to establish an extension of Carnegie Mellon's Entertainment Technology Center (ETC) next year in Adelaide, where the Master of Entertainment Technology will be offered. Entertainment technology is a rapidly evolving and high-growth sector and includes gaming, special effects and computer animation.
"We are very excited by the addition of the world-renowned ETC, which I visited in Pittsburgh in May this year, because it will fit so well into our burgeoning film and entertainment industries," Rann said. "Companies like Rising Sun, Midway Games (formerly Ratbag), Kukan, Kojo and m.Net will be among the many businesses and organizations expected to benefit from the ETC's presence in Adelaide."

Teresa Thomas
November 28, 2005