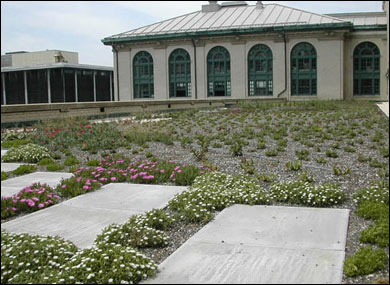 The Living Roof atop the south wing of Hamerschlag Hall.
Four years ago three students in Carnegie Mellon's Sustainable Earth Club decided to take matters into their own hands. Through a small undergraduate research project they created a buzz on campus to replace the deteriorating south wing roof of Hamerschlag Hall with an environmentally friendly green, or living, roof.
While little was known to actually quantify the advantages of a green roof over a conventional one, they knew that rooftop gardens conserve energy and preserve the environment.
Today, that buzz, initially created by Diane Loviglio (BHA'05), Aria Thomases (CFA'02) and Landis Kaufmann (CFA'02), has turned into a reality thanks to dedication, persistence and a whole lot of teamwork.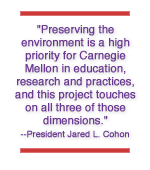 "This project typifies the fantastic commitment, creativity and collaboration of our students," said President Jared L. Cohon at a fall ceremony celebrating the green roof. "Preserving the environment is a high priority for Carnegie Mellon in education, research and practices, and this project touches on all three of those dimensions."
After Thomases and Kaufmann graduated in 2002, Loviglio worked with faculty advisor Bob Bingham, Carnegie Mellon's Green Practices Committee and the university's Facilities Management Services (FMS) to keep the project moving forward.
The big boost came late in 2003, when Governor Edward Rendell awarded a $96,750 grant to Carnegie Mellon from the Pennsylvania Energy Harvest program, which supports advanced and renewable energy technologies. A few months later the project received $25,000 from the 3 Rivers Wet Weather Demonstration Program, an effort to improve storm water management and water quality in Allegheny County.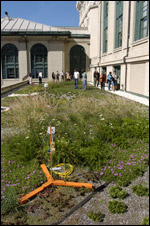 The Living Roof includes several instruments to measure rain water runoff, water quality, heat loss and heat retention.

"Twenty-five percent of Diane's life was dedicated to getting this job done," President Cohon said. "She and her colleagues have learned a phenomenal set of lessons about how to work collaboratively to get the project done."

"This roof should be called the Diane Loviglio Living Roof," said Bingham, an associate professor of art who specializes in ecological and environmental art projects. "She kept nudging it along."

The actual design of the green roof was created by architecture and engineering students in Bingham's Advanced Sculpture studio class last spring. The design was implemented by W.P. Hickman Systems Inc., which has installed a number of green roofs across the country, from Seattle to Maryland.

From the bottom up, the living roof consists of a conventional flat roof (concrete, two layers of thermal insulation, two layers of 160-mil torch-applied roof membrane and one layer of 180-mil premium torch-applied membrane) overlain by the soil, plants, and water control systems of the living roof (filter fabric, a two-inch layer of gravel, another layer of filter fabric, four inches of specially designed soil, and metal flashing around the perimeter). The top of the green roof includes grasses, perennials, logs and a small rock-bed pond.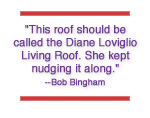 "This was an elaborate and very unusual design," said Tim Clement of W.P. Hickman. "It was developed to incorporate a comprehensive energy and water monitoring system, which required some special design features. Also, once fully developed, no gravel will show. The plants will grow out to cover the entire roof."
Bingham said W.P. Hickman worked very well with the students on the project. "We went 'design-build,' which is very important," Bingham said.
The living roof provides extra insulation that reduces the amount of heating and cooling needed for the offices, classrooms and labs below. It reduces storm water runoff, which improves water quality, and reduces heat retention in the summer caused by traditional roofing materials.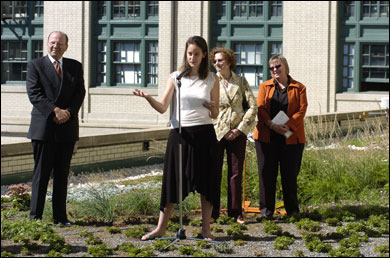 Diane Loviglio makes a few remarks at the celebration ceremony. At left is President Jared L. Cohon and at far right is Barb Kviz, co-chair of the Green Practices Committee.
While the living roof has many environmental benefits, it is also serving as a living lab. Several monitors and instruments have been installed to measure rain water runoff, water quality, heat loss and heat retention. Control monitors have been installed on the traditional Porter Hall roof to compare and contrast the data. Architecture grad student Megan Snyder and civil and environmental engineering grad student David Carothers were instrumental in developing and integrating the energy and water monitoring systems.
"This project serves as a model and test case for our region," said Civil and Environmental Engineering Professor Dave Dzombak, co-chair of the Green Practices Committee. Dzombak and Civil and Environmental Engineering Professor Cliff Davidson worked with the student team to devise and install the measuring devices.
"This isn't just a green roof," said Barb Kviz, FMS environmental coordinator and co-chair of Carnegie Mellon's Green Practices Committee, "it's a research project."
So, what started as a research project for Loviglio and her colleagues continues to be a research project.
"This is just the beginning," Loviglio said.

Bruce Gerson
November 8, 2005