Carnegie Mellon's College of Fine Arts Celebrates 100 Years
Was one of the first comprehensive arts institutions in the United States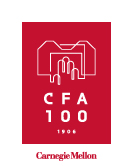 The college that brought the world Andy Warhol, "Hill Street Blues," The Hug, composer Stephen Schwartz, architect Roger Duffy and pop artist Burton Morris turns 100 years old this year and shows no signs of slowing down. Officially founded in 1905, Carnegie Mellon University's College of Fine Arts (CFA) was one of the first comprehensive arts learning institutions in the United States. It's time to celebrate and enjoy the college's accomplishments as one of the nation's leaders in architecture, art, design, drama and music.
"The College of Fine Arts has for 100 years set the standards for excellence in arts education within a university setting," said Jared L. Cohon, president of Carnegie Mellon. "The college brings a special energy to Carnegie Mellon every day and engages us with objects and performances of beauty and power. We take immense pride in the creative contributions of generations of its students, faculty and graduates to the arts in America and throughout the world."
To celebrate this historic marker, the college will resurrect its boisterous, high-style costumed Beaux Arts Ball. CFA will also host its first comprehensive alumni art exhibition with cooperation from The Carnegie Museum of Art, The Andy Warhol Museum and other private collections.
The following is a closer look at the CFA Centennial events.
100% Centennial, an alumni art exhibition, January 20 - March 5, 2006
Regina Gouger Miller Gallery
A special alumni art exhibit, entitled "100% Centennial," will open at the Regina Gouger Miller Gallery on January 20, 2006, and will run through early March. The first-floor exhibit, "100% Centennial: Representing CFA," will include digital displays of images, video clips, music, drawings and renderings. The second-floor exhibit, "100% Centennial: Wall to Wall CFA," will present salonstyle physical works of art and digital images. The third-floor exhibition, "100% Centennial: Collecting CFA," will display works by prominent alumni from public and private collections, in partnership with The Carnegie Museum of Art and The Andy Warhol Museum.

Centennial Beaux Arts Ball, March 4, 2006
College of Fine Arts building
Henry Hornbostel created the CFA Beaux Arts Ball during his first year as dean of the College of Fine Arts in 1911-12. It was always popular among the campus community and alumni. Traditionally a masquerade and costume ball, it was discontinued in the 1990s, but the college has brought it back to celebrate its Centennial. Alumni and the campus community will experience the revival of the CFA Beaux Arts Ball—a multidisciplinary art and costume party with elaborate entertainment and decorations created by CFA faculty and students. It will feature a wide range of artistic creations and performances.

Carnegie Mellon Night at the Symphony, February 4, 2006
Heinz Hall
The School of Music will host a Carnegie Mellon night at the Symphony. Pinchas Zuckerman will conduct and two Carnegie Mellon faculty members—Andres Cardenes and Anne Williams—will be the featured soloists. The School of Music is also planning a Carnegie Mellon subscription series to the Pittsburgh Symphony Orchestra.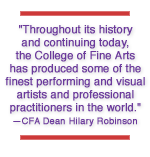 CFA marks its Centennial under new leadership. Hilary Robinson, the recently appointed Stanley and Marcia Gumberg Dean of the College of Fine Arts, is an accomplished artist and educator. Robinson was appointed in August. She notes that the Centennial marks an academic milestone. "Throughout its history and continuing today, the College of Fine Arts has produced some of the finest performing and visual artists and professional practitioners in the world. From each and every school have come leaders in their fields—those with not only extraordinary expertise but also with vision. This year we celebrate their achievements as well as commemorate the innovative work we do today and the impact the college will have in the future."
Five separate conservatory and professional schools make up CFA: architecture, art, design, drama and music and its associated programs. The School of Art and the School of Design MFA program is rated #2 in multimedia arts in the country, according to US News and World Report. CFA's architecture and music schools are similarly highly regarded, and accomplished alumni visibly make great strides and impact their disciplines. The School of Drama boasts an impressive list of alumni in the entertainment industry. From Cherry Jones, who won a Tony® Award in her role in "The Heiress," to Rob Marshall, director for the Oscar®-winning "Chicago," CFA graduates take center stage at award shows year after year.
For more information about activities related to the College of Fine Arts Centennial Anniversary visit www.cmu.edu/cfa/centennial. For more information on the Centennial or the College of Fine Arts, contact Eric Sloss at 412-268-5765 or email ecs@andrew.cmu.edu.

Eric Sloss
October 31, 2005