Carnegie Mellon Hosts Council for the Advancement of Science Writing Annual Briefing


Marcel Just, Thomas Longstaff, Jennifer Lerner and David Rakison (l-r) are among many Carnegie Mellon faculty who will discuss their work in presentations during the CASW annual conference.
Carnegie Mellon University will welcome nearly 300 science writers and journalists to Pittsburgh when it hosts the Council for the Advancement of Science Writing's (CASW) 43rd Annual New Horizons in Science Briefing Oct. 22-26 at the Omni William Penn Hotel downtown.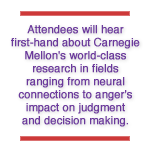 CASW is a group of journalists committed to improving the quality of science news that reaches the general public. The organization's annual New Horizon's in Science Briefing brings the world's best science writers together for an intense exploration of the recent developments in science, medicine and technology that will be newsmakers in coming months.
At this year's briefing, attendees will hear first-hand about Carnegie Mellon's world-class research in fields ranging from neural connections to anger's impact on judgment and decision making. Marcel Just, the D.O. Hebb Professor of Psychology, will discuss his research on the role that the brain's white matter plays in coherence and its relation to autism. Thomas Longstaff, deputy director for technology at the Software Engineering Institute's CERT, will present an update on CERT's activities around the world. Jennifer Lerner, the Estella Loomis McCandless Associate Professor in Social and Decision Sciences and Psychology, will unveil groundbreaking work in how anger affects judgment and decision making. Finally, Associate Professor of Psychology David Rakison will talk about how experiments with untraditional toys are helping to explain how infants begin to understand the differences between animate and inanimate properties.
In addition to formal presentations, writers will also have a chance to talk informally with many Carnegie Mellon researchers during the National Association of Science Writers/CASW joint meeting on Sunday, Oct. 23. During Sunday's luncheon, conference attendees will choose between themed tables, where specific researchers will discuss topics from cybersecurity and green chemistry to intelligent tutors and open access for scientific information.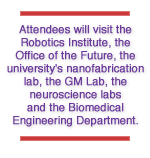 Attendees will be on Carnegie Mellon's campus on Tuesday, Oct. 25 to visit the Robotics Institute, the Office of the Future, the university's nanofabrication lab, the GM Lab, the neuroscience labs and the Biomedical Engineering Department. Guests will also get a taste for Carnegie Mellon's impact in the arts and technology on Sunday, Oct. 23, when the university will exhibit samples of its research projects as part of the welcome reception at the Entertainment Technology Center.
While the New Horizon's in Science Briefing will emphasize the work done on campus, it will also highlight the Pittsburgh region and the transition it's undergone in the past few decades.
"Once a symbol of industry and manufacturing, Pittsburgh has transitioned from the Steel City to what President Bush has called 'Knowledge Town,'" said Carnegie Mellon President Jared L. Cohon. "Because of university leadership in the city, new jobs in biotechnology, information technology and entertainment technology have emerged from gleaming structures that stand on former mill sites. Research groups from Apple to Intel have opened offices in Pittsburgh for easy access to cutting-edge university research programs that will change how we learn and live in the future."
The 2005 New Horizons in Science Briefing is sponsored by Carnegie Mellon with support from the University of Pittsburgh.
For more information, see http://www.casw.org or http://www.cmu.edu/cmnews/extra/050630_casw.html.

Susan Cribbs
October 21, 2005