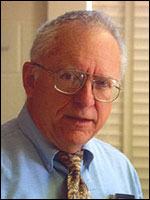 Alumnus John Hall will share this year's $1.3 million Nobel Prize in Physics with his collaborators on laser-based precision spectroscopy.

John Hall, who received his bachelor of science (1956) and doctorate (1961) in physics from the Carnegie Institute of Technology, is one of three recipients of this year's Nobel Prize in Physics for "contributions to the development of laser-based precision spectroscopy, including the optical frequency comb technique."

Hall will share the $1.3 million prize with German collaborator Theoder Hänsch of the Ludwig-Maximillians-Universität in Munich, Germany, and Roy Glauber of Harvard University.

"I'm not at all surprised by this award. He is a genius in precision measurement," said Robert Schumacher, professor emeritus of physics and Hall's graduate advisor. "His work allowed us to measure the speed of light so accurately that it redefined international standards of the meter and the atomic clock."

Hall, currently a senior scientist at the National Institute of Standards and Technology in Boulder, Colo., together with Hänsch developed laser-based precision spectroscopy, also called the optical frequency comb technique. This method provides an extremely precise way to measure the frequency of light emitted from molecules and atoms. The contributions of Hall and Hänsch have allowed others to measure frequencies with a precision out to fifteen digits. This precision is obvious in comparison to FM radio, which is only measured to seven or eight digits.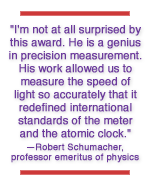 "This technique makes it possible to carry out studies of the stability of the constants of nature over time and to develop extremely accurate clocks and improved GPS technology," the Royal Swedish Academy stated in a press release issued Oct. 4.
Glauber was awarded half of the prize in honor of his contributions to the theoretical description of how light particles behave.
Carnegie Mellon honored Hall with a distinguished merit award at its 1985 graduation ceremonies.
As a graduate student, Hall worked on a problem in electronic paramagnetic resonance—the study of how unpaired or "loose" electrons alter their behavior in the presence of a magnetic field. Studies in this field have radically advanced imaging and nanotechnology.
Hall's capability to provide solid findings was presaged in this Ph.D. research, according to Schumacher. "There was nothing further he could do with that work because he'd answered all the questions involved."

Lauren Ward
October 4, 2005