H1ghlander
Sandstorm
Carnegie Mellon University's Red Team will start two robotic HUMMERS in DARPA's $2-million desert race this weekend. The race gets under way near Primm, Nev., at 6:30 a.m. PDT, Oct. 8.
H1ghlander has earned the first starting position and Sandstorm will start third, 10 minutes later. Specifics of the course won't be known until the morning of the race, but it's expected to be a 150-mile run through hostile desert terrain, including mountains, gullies, dry lakebeds and man-made obstacles, in less than 10 hours.
Both robots made the cut from a field of 43 to 23 contenders after showcasing their navigational skills during a weeklong series of semifinals at the California Motor Speedway Sept. 28 to Oct. 5.
"The trials we've just been through certify basic skills on turf and asphalt, but without the challenges and high speeds of desert trail running that will matter on race day," said Red Team leader, Carnegie Mellon Robotics Professor Red Whittaker. "The real challenges are in the desert."
At the semifinals, each robot performed several runs on a 2.2-mile course that included a 100 foot-long tunnel, more than 100 cones, gates, parked cars and piles of tires. The course was altered to prevent memorization by the robots and to make it more difficult as the week progressed. The contenders improved their performance as the trials went on.
Prior to the semifinals, Sandstorm and H1ghlander had completed more than 1,000 miles of autonomous driving under punishing conditions at the Nevada Automotive Test Center near Carson City. Each vehicle completed runs of more than 170 miles at competitive speeds in race-difficult terrain before arriving at the qualification event. Sandstorm has logged more than 4,000 miles of autonomous desert driving during its robotic career.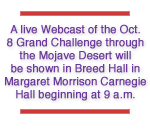 A 1986 HMMWV, Sandstorm is the Red Team's veteran racer that set records for speed and distance at the first Grand Challenge on March 13, 2004. H1ghlander is a 1999 H1 HUMMER. It is entered in the Grand Challenge under the auspices of Red Team Too, led collaboratively by Whittaker and Kevin Peterson, a graduate student at Carnegie Mellon's Robotics Institute.
Both Sandstorm and H1ghlander sense and drive autonomously by computing where and how to drive. They process terrain models, plan routes and automatically steer to avoid hazards. The robots map terrain with laser range scanners, stereo cameras and radar sensors. Some of these are mounted on a gimbal, which operates like an animal's neck to stabilize and point the sensors. A lightweight carbon fiber dome protects the gimbal and sensors.
Just two weeks before the semifinals, H1ghlander rolled over on a practice run. Whittaker described its comeback and performance at the semifinals as a "triumph." "No one can yet say what it takes to succeed in the Grand Challenge since the race hasn't occurred and the challenge hasn't been met," he said. "Success calls for much more than innovative technology and autonomous driving. Everything matters on race day."
The Red Team is an alliance of universities, companies and nonprofit organizations committed to winning the Grand Challenge. Team members include students, volunteers and employees of corporate sponsors who have been embedded in the team. The Red Team has more than 40 sponsors, including Caterpillar, Harris Corp. and Google, among others.
For more information on the Red Team, see: www.redteamracing.org.
For a complete list of sponsors, see: www.redteamracing.org/index.cfm?method=sponsorMap&skin=popup
Carnegie Mellon to Host Webcast of Race Day
A live Webcast of the Oct. 8 Grand Challenge through the Mojave Desert will be shown on campus in Breed Hall in Margaret Morrison Carnegie Hall.
The Webcast will begin at 9 a.m. and end at 6:30 p.m. Breakfast will be served from 9 to 11 a.m. and lunch from 12:30 to 2:30 p.m.
Alumni Event in Las Vegas
Alumni and friends are welcome to attend a post-race celebration with members of the Red Team on Saturday, October 8, from 8-11 p.m. at the Mandalay Bay Resort & Casino in Las Vegas. For more information, please click http://alumni.cmu.edu/redteam/index.html.

Anne Watzman
October 5, 2005