You could call the Andy Awards the People's Choice Awards at Carnegie Mellon. The university-wide staff recognition program honors individuals and teams in five categories for outstanding dedication and performance. Winners are selected for going above and beyond the call of duty and for having a significant impact on the university.
This year's winners—one individual and four teams—were selected by a committee of university representatives and were announced at the 11th Annual Andy Awards ceremony on Sept. 27.
Here's a look at the winners.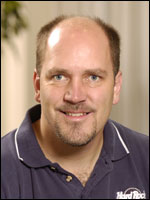 Charlie Matous
Charlie Matous—Dedication
Charlie Matous, who effectively serves more than 100 faculty, staff and students as computer facilities manager for the Institute for Complex Engineered Systems (ICES), received the Andy Award for dedication.
Cristina Amon, ICES director and the Raymond J. Lane Distinguished Professor of Mechanical Engineering, praised Matous for his exceptional job performance, for mentoring students and for his upbeat and very personable attitude. She says he has earned many commendations from the ICES community.
"Charlie is a hard-working member of the staff who will often begin work early in the morning in order to upload new software or check out computers for a problem. He will work on computers during our lunches as well. He does this all in an effort to avoid distracting or delaying us in our work during regular hours, even if it cuts into his own time," Amon wrote in her nomination letter.
She also praised him for showing initiative by taking on additional projects to benefit the ICES community and for mentoring work-study students in the development of a database that compiles financial and technical information.
"Charlie is quiet in his helpfulness, gentle in his humor and strongly committed to his job. Charlie has consistently worked to make ICES and Carnegie Mellon both a productive work environment and a genuinely friendly place to work," Amon says.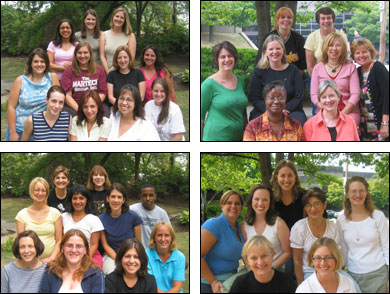 The Cyert Center Educators Team
Cyert Center Educators Team—Enthusiasm
Thirty-eight educators from the Cyert Center for Early Childhood Education took the Andy Award in the Enthusiasm category for their exemplary efforts.
"As a working parent, there is nothing more difficult than leaving your child at a daycare center every morning. The teachers at the Cyert Center are truly a gift to me and to so many other Carnegie Mellon employees. We are able to focus on our jobs and stay motivated because they make so much possible for our families," says nominator Kathy Lachenauer, director of foundation relations.
"In the early morning hours, the educators come to greet you and your children with hugs, smiles and reassuring words of comfort. They can light up a child's face with their energy and stories of what will occur that day," she added.
Lachenauer praised the team for representing the "very best the university has in teamwork." She says they're "motivated, energized and fully committed to loving and caring for our children."
Team members include: Judy Abrams, Rebecca Aizupitis, Katie Beardsley, Clare Bochicchio, Emily Buchholz, Lindie Droulia, Mary Foglia, Carla Freund, Debra Fromm, Lynn Frustaci, Carol Herron, Karen Jackson, Sandy Johns, Marcela King, Jamie Kokales, Elisa Lesquin, Mary Anne Lynch, Brenda McConnaughy, Suzanne McCullough, Mary Moore, Barbara Moser, Joella Reed, Rachel Reid, Chris Reppermund, Jacqueline Rombold, Amy Smith, Jennifer Smith, Kim Spragan, Mark Spragan, Lillian Staudacher, Sandy Stover, Amy Strada, Megan Sweeney, Lisa Timon, Lucy Valcheff, Michelle Visley, Christean Volz and Sandra Walfish.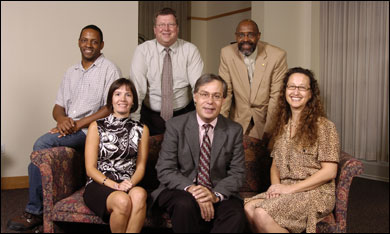 The Human Resources Orientation Team
Human Resources Orientation Team—Innovation
The Human Resources Orientation Team received the Andy Award for innovation for transforming the traditional benefits orientation program into an interactive, multimedia CD that can be accessed online anytime from anywhere.
Drama Professor Don Marinelli, director of the Entertainment Technology Center, which partnered with HR to produce the CD, said the team appropriately switched the focus of the program from the employer to the employee.
"With this shift in focus, the team recognized that the medium, the 'how' mattered. It was at this point that the team realized the power new technology could offer," Marinelli says.
Marinelli says the CD provides information that employees need in a personal way, includes input from the campus community in the form of personal testimonials and assists new employees in becoming productive members of the community.
"The HR Orientation Team has truly demonstrated the DaVinci effect—Innovation with Impact!" Marinelli says.
The CD, which is sent to all new employees, can be accessed at http://hr.web.cmu.edu/orientation/.
Team members include: Karen Beaudway, Lori Bell, Gemma Green, Gloria Gruber, Charles Palmer, Ron Placone, Richard Smereczniak and Everett Tademy.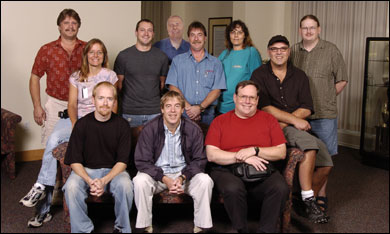 The CRUNCH Team
The CRUNCH Team—University Citizenship
The Core Redundancy and Upgrade Network Connections to One Hundred Megabits Per Second (CRUNCH) Team won the Andy Award for university citizenship for successfully upgrading more than 200 wiring closets and more than 10,000 active wired network connections on campus.
The project was completed ahead of schedule and under budget, all while minimizing the actual network downtime to their customers. Upgrades were made between 5 and 9 a.m.
"It is estimated that more than 1,000 hours of staff time was spent between 5 a.m. and 9 a.m. on the upgrade days in order to reduce the productivity loss to the campus community," said Chuck Bartel, director of Network Services, who nominated the CRUNCH Team.
"While there were many sleepless nights on the part of the team, I am pleased to report that out of roughly 150 closet outages, only a couple did not meet the 9 a.m. up-time window, a few went to 9 a.m. but most were completed before 8:30 a.m.," Bartel says.
Team members include: Pete Bronder, Mark Campasano, Josh Emerson, Larry Gallagher, Frank Kietzke, Jenny Ladd, Alex Lang, Shirl McGaffick, Dave Nolan, Lisa Picone, Alan Sutton, Joe Winwood and Russ Yount.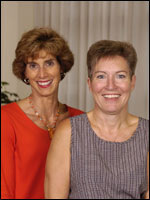 The Fitness Team: Donna Morosky (left) and Pattye Stragar
The Fitness Team—Culture
The Fitness Team of Donna Morosky and Pattye Stragar earned the Andy Award for Culture for creating a positive and supportive workplace environment and for "living the message of health and fitness with vitality and energy."
Sue Javorski of Enrollment Services, who nominated the team, lauded Morosky and Stragar's involvement in Carnegie Mellon's Take Our Daughters and Sons to Work Day (TODSWD).
"Their combined efforts of offering a wide array of athletic morning and afternoon activities, tracks and lunch entertainment superseded past years. Being able to provide 70 tennis racquets and control 70 rambunctious girls was no easy feat," Javorski says. "Not only did Donna and Pattye enable many wonderful 'moving' activities throughout the day, their conspicuous enjoyable presence among 113 girls, 95 boys, 200 lunch attendees and 61 volunteers required a high energy level."
"Donna and Pattye were outstanding in their commitments and efforts which played a huge part of making this event as successful as it was," said Leslie Rhodes, chair of the TODSWD.
For more information on the Andy Awards, including a list of this year's nominees, visit http://www.cmu.edu/andyawards/

Bruce Gerson
September 27, 2005