Krieg Travels to Korea to Learn More About the Students She Serves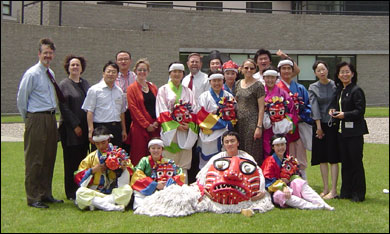 On their trip to Korea, Krieg and the other Fulbrighters had a chance to interact with Seoul Institute of Art's student club for traditional Korean dance and drumming.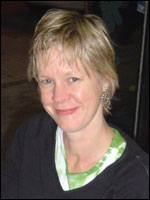 Fulbrighter Lisa Krieg smiles after another fantastic Korean meal, an important part of cultural exchange.

Lisa Krieg, director of Carnegie Mellon's Office of International Education, got a chance to study abroad herself this past summer. But it wasn't for college credit. Instead it was a rare opportunity to learn more about the Carnegie Mellon students she serves every day.

Through the Fulbright-sponsored International Education Administrators (IEA) program, Krieg traveled to Korea where she learned about Korean culture and education. By visiting Korean universities and secondary schools, meeting with educators and government officials, and participating in social and cultural events, Krieg was able to live the Fulbright mission of bringing "a little more knowledge, a little more reason and a little more compassion into world affairs and thereby increasing the chance that nations will learn at last to live in peace and friendship."

As an administrator who spends her days interacting with students from all over the world, Krieg viewed the IEA program as an opportunity to experience first-hand the culture of those students who eventually come to her for help. "Students and scholars from Korea represent one of the largest international groups on campus, and so it seemed very relevant," said Krieg, who noted that IEA programs also exist in Germany and Japan. After a competitive application process, Krieg was one of four professionals in the U.S. to be selected for the Korean program.

Though her travel has been limited during her career at Carnegie Mellon, Krieg speaks fluent Chinese and lived in Taiwan for three years in the 1980s. During that time, she spent 10 days in Korea, but only as a tourist. "I was familiar with Asian culture, broadly speaking," she said. "But this program was a different view into Korean culture."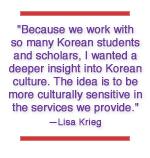 Krieg spent slightly less than two weeks in Korea—one week in the capital city Seoul and another touring locations throughout the country. The group visited 10 universities, "including several famous technical schools that, I think, are akin to Carnegie Mellon," she said. The group also visited two high schools, two Korean government agencies and the U.S. consulate in Seoul.
"We got to see the Visa process first-hand, which was very interesting for me because it's where our students and scholars wait in a long line," Krieg said. They also participated in cultural outings and attended lectures on the Korean economy, history and education.
One of the highlights of Krieg's experience was a trip to the Demilitarized Zone, the 4 km-wide swatch of land that stretches across the country, separating North Korea from South Korea. She described the experience as "intense." Burly soldiers roamed the DMZ, possibly the world's most heavily fortified location, and a United Nations escort took the IEA participants through barbed-wire fences and past mine fields. "It was intense, but it was never a fear-for-your-life kind of situation," Krieg said. "It was just surreal."
But while the DMZ was surreal, the universities in Korea proved to be similar to those here in the U.S. In Seoul, for example, the group stayed at a guesthouse at Yonsei, one of the most famous universities in Korea. Despite the hustle and bustle of what Krieg called the "megatropolis" of the nation's capital, the university was filled with greenery. "Campuses in Korea are like our campuses," she said. "Many of our campuses are oases, with pretty grounds, nice plantings and space. Many of the Korean universities had a very similar feel in that respect. Their buildings are different, but the openness and the campus plan felt very similar to our universities here."
Krieg also noted that students at the Korean universities were equally involved in campus organizations as their U.S. counterparts. "We were at a Presbyterian university and we visited their student building," she said. "We went through row after row of student offices. They were allowed to decorate their doorway on the outside, so they painted the doors. There was a calligraphy club, photography, music, a reunite the Koreas club and Christian organizations—the whole range, like we have, based on student interest."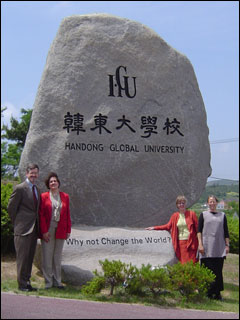 Fulbrighters concur with Handong University's slogan "Why not change the world?"

Though the Korean universities showed some similarities to those in the U.S., Krieg noted that they were also quite different. Her stay at one of the universities overlapped with the students' final exams, and she noticed that throngs of Korean students arrived on campus around 6:30 a.m. to prepare and study. Carnegie Mellon students typically don't start arriving on campus in such large numbers until roughly 8 a.m. She also observed that faculty performed senior administrative roles and rotated on a two-year schedule. Finally, human resources could move administrators to other parts of the university with little or no notice, based on where that employee could best be used.

Probably the largest difference Krieg noticed was the attitude toward education exhibited in Korea. In visits to high schools, she observed that students were in school from 7 a.m. until 10 p.m. And though some of that time could be called optional, it didn't seem that way. In addition to classes, students had study sessions and group sessions and, to a lesser extent, extracurricular activities. Students also participated in extra educational endeavors outside the school environment, like attending special English language classes.

"People's dedication to being educated and having their kids educated is very high and notable," she said. "...There's a lot of emphasis on education and you could say there's pressure on students to do well, and high expectations of entire families that their young people succeed. You get a sense that a larger percentage of Korean students are questing for the top colleges and universities."

Many of those motivated scholars and students may one day find themselves at Carnegie Mellon, as undergraduate or graduate students, researchers or faculty members. And when those students show up in her office, Krieg hopes that her experience in Korea will give them common ground.

"Because we work with so many Korean students and scholars, I wanted a deeper insight into Korean culture. The idea is to be more culturally sensitive in the services we provide," Krieg said. "Not only do I hope the trip gave me some cultural insights that make me a better service provider for this large group, but it's also a nice conversation starter. It helps to show that you have an interest in someone's culture, that you visited their country, that you learned something about it. I also think it provides a good link between my office and this large group of people who are here from overseas.

"It was a great experience," she concluded. "It gave me interesting insights into modern-day Korea and some of the issues that our students face. But it's also nice when you meet someone to be able to say 'I've seen your university; I've visited your country.'"



Susan Cribbs
September 15, 2005