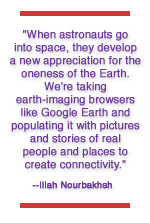 Software developed by scientists at Carnegie Mellon University and NASA Ames Research Center is being used on the Google Earth Web site to give people highly detailed views of the destruction wrought in New Orleans by Hurricane Katrina.
Google Earth features a globe showing topographical and manmade objects on the Earth's surface. It allows the user to "fly" around the globe and focus on various areas and objects in great detail. Since Sept. 2, more than 7,300 aerial photos taken by the Remote Sensing Division of the National Oceanic and Atmospheric Administration (NOAA) have been overlaid onto Google Earth with Carnegie Mellon's software. The images can be downloaded without charge by anyone with a Windows-based computing system.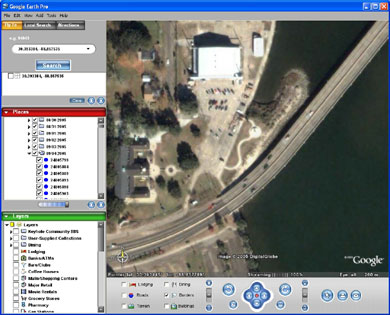 Before and after shots of Highway 90 in Biloxi, MI. Images provided by Google and NOAA.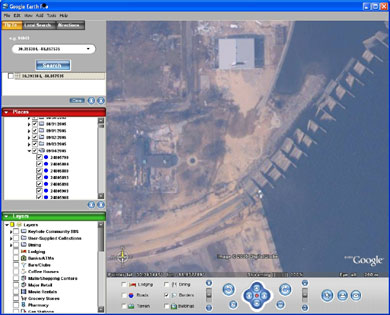 The software is part of the Global Connection project, which has been under development by Carnegie Mellon researchers with support from Google. Illah Nourbakhsh, associate professor in Carnegie Mellon's Robotics Institute and co-principal investigator on the project, said the purpose of Global Connection is to make all people on earth more aware of their neighbors.
"Our goal is to get people around the world to appreciate each other more," he said. "When astronauts go into space, they develop a new appreciation for the oneness of the Earth. We're taking earth-imaging browsers like Google Earth and populating it with pictures and stories of real people and places to create connectivity. We're working on technology and interfaces that incorporate the richness of detail into the browser. Some of what we have is current. Other parts are historical."
Nourbakhsh has been working with co-PI Randy Sargent, a project scientist based at the university's West Coast campus; Anne Wright, a computer scientist at NASA's Ames Research Center, both at Moffett Field, Calif.; and Brian Dunlavey, a research assistant in the Robotics Institute.
"Last week, Google asked us if we could use the Global Connection software to overlay images of the damage in New Orleans onto Google Earth," Nourbakhsh said. "Since then we've been working day and night to allow FEMA (Federal Emergency Management Agency), NOAA and the public access to high-resolution data."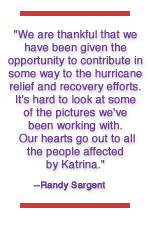 As part of Global Connection, Nourbakhsh and his colleagues are developing a panoramic imaging device that can be built inexpensively onto a digital camera. It would allow people to capture the world around them in extraordinary detail, which can then be overlaid onto the Google Earth Web site.
"Google Earth combines an unparalleled set of satellite and aerial photography and lets you fly around it as if you were an astronaut or an airplane pilot," Sargent said. "In some places you can zoom in to see rivers and streets. In others, there is enough detail to see individual people.
"We are thankful that we have been given the opportunity to contribute in some way to the hurricane relief and recovery efforts," he said. "It's hard to look at some of the pictures we've been working with. Our hearts go out to all the people affected by Katrina."
For more information on Global Connection, see www.cs.cmu.edu/~globalconn.


Anne Watzman
September 12, 2005